REVIEWS
REVIEW: 'RED SPARROW' IS A STYLISH BUT DEEPLY FLAWED SPY THRILLER *SPOILER FREE*
There has been much speculation leading up to the release of Red Sparrow that 20th Century Fox had surreptitiously muscled in on Marvel's territory once more by making the Black Widow movie that Marvel Studios have been so frustratingly reluctant to put into production. On paper, there are some striking similarities between the origins of Marvel's Natasha Romanoff and Jennifer Lawrence's Dominika Egorova (codename: DIVA).
Dominika is a ballet dancer, who after a tragic accident on stage is recruited by her uncle to become a "Red Sparrow" to serve the Russian state as a spy. To do so she is sent to a training facility that should have a few of Disney's lawyers on alert due to it being more than a little reminiscent of the Red Room where the Black Widow learned her chops in the Marvel Universe.
However, anyone hoping that this reunion between Jennifer Lawrence and her Hunger Games director Francis Lawrence would adeptly exploit this gap in the MCU market will be sorely disappointed. The irony is, though, there is plenty of exploitation on show in Red Sparrow but it is the kind that you would never expect or perhaps even hope to be released under the Disney banner.
SPARROWHAWK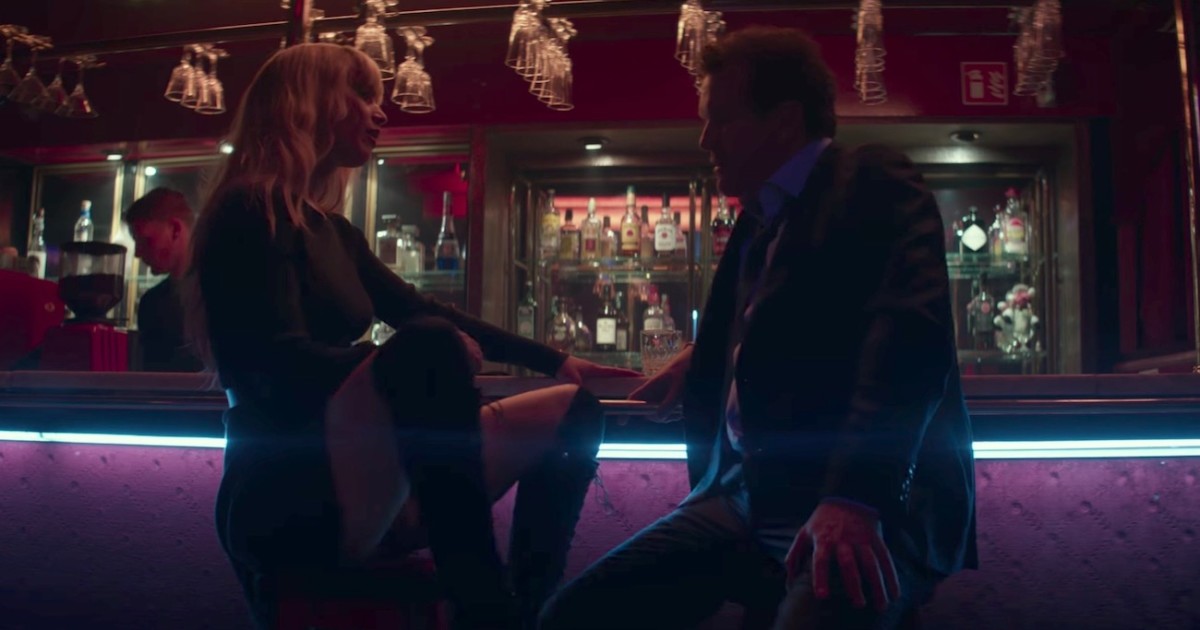 Well, that escalated quickly. After a prologue which virtually tells a whole film's worth of plot (mostly that of Darren Aronofsky's Black Swan) within ten minutes so we can acquire Dominika's backstory and motivation before getting down to all the agent provocateur business, I settled in for what I anticipated to be yet another riff on the female Jason Bourne template seen in Salt and Atomic Blonde. What I didn't expect was to find myself watching a homage to the infamous Italian exploitation film Salo: A 120 Days of Sodom, but that's exactly what I got for the majority of the first act.
To say that the tone of Red Sparrow wavers would be a massive understatement. Yes, there is plenty of international intrigue and skullduggery one would associate with the spy genre but it is often – too often, in fact – punctuated by sexual violence, torture and luridness. The Red Sparrows of the title undergo severe training in sexual manipulation and the application of such skills in a facility run by Charlotte Rampling's Matron. It is both a harrowing and seedy time for Jennifer Lawrence's Dominika and the audience alike, which ultimately comes across as distasteful rather than provocative. This could have easily been remedied if Francis Lawrence hadn't been too vain to sacrifice style for substance and provide some kind of commentary on the dehumanization of the process, but the director seems determined "to have his rape and eat it".
As such, Dominika's character arc becomes more of a scribble than a smooth line, which constantly asks why she is putting up with all this trauma rather than accepting her quick fate at the end of a barrel of a gun. The screenplay uses the old "sick mother at home" device as a driving force for her, but not only is this incredibly lazy, it is also poorly established with little screen time dedicated to their relationship. Indeed, all this salacious unpleasantness would have been enough to condemn Red Sparrow outright if it wasn't for the megawattage of Jennifer Lawrence's star power shining through all the filth.
LAYING DOWN THE JEN-LAW
The law of diminishing returns is supposed to strike younger Best Actress winners no sooner than when their name comes out of the envelope. Clearly, no one told this to Jennifer Lawrence, though. The Silver Lining's Playbook star holds absolutely nothing back in her depiction of Dominika and anchors the entire film to a degree which the project was probably undeserving of.
Nailing the Russian accent is one thing (and something that some of her English-speaking co-stars clearly couldn't be bothered with either), but to commit to a near full-frontal nude scene after her privacy was so horrifically violated by hackers just a few years ago constitutes an actual bravery that belies the usual usage of that adjective when it comes to screen performances. For an actress who has been occasionally accused of phoning it in (*ahem* the X-Men films), it's slightly odd that she should decide to pull out all the stops for such a pulpy movie but it is a testament to her talent and commitment that she does.
Her performance is so good that it frequently smooths over the many gaps and bumps that Justin Haythe's screenplay (based on Jason Matthew's novel) refuses to deal with. It is also a huge shame that her male lead, Joel Edgerton, as the preposterously named Nate Nash is frequently found wanting as her American counterpart who seemingly escaped from a cancelled 90's primetime show. It would have made the titular Red Sparrow's struggles worthwhile if she had a love interest whom with which she had even a modicum of chemistry, but Edgerton continues to show that his recent strong performances in Loving and It Comes at Night are blips on an otherwise downward career trajectory.
THE COLD BORE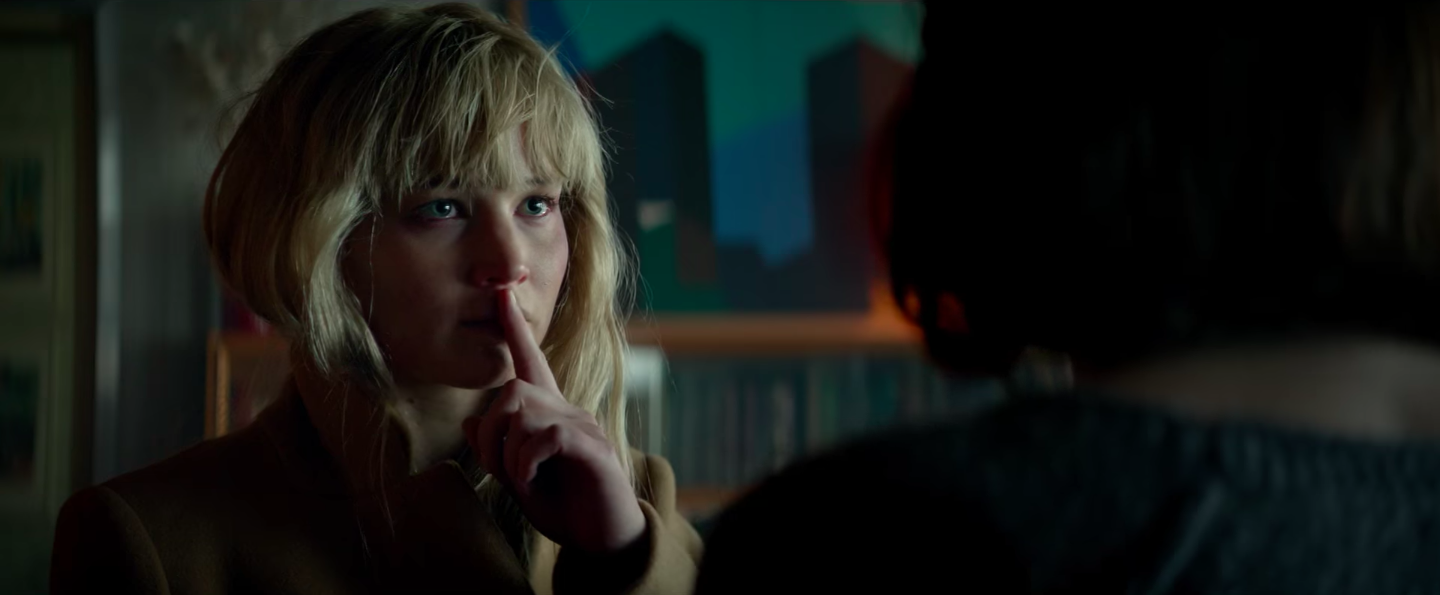 So, aside from all the exploitative smut and Lawrence misplacing an Oscar-worthy performance in a film that the Academy wouldn't touch with a 10ft pole, there's also a spy thriller struggling to make itself known in Red Sparrow. There are two established routes for the spy genre: the action-packed thrill-rides of the Bond and Bourne films and subtle subterfuge of something like Tinker, Tailor, Soldier, Spy. Given its inherently trashy attitude, one would have thought the former approach would be more Red Sparrow's speed but, instead, it opts for the latter. It's just not very good at it.
In the current political climate, where Cold War tensions are re-emerging, Red Sparrow does feel like something of an American propaganda piece and a decidedly old-fashioned one at that. With the exception of Dominika and her mother, the Russians are painted in an entirely unsympathetic light as arch-manipulators who sacrificed their humanity and morality to the state long ago. They are the kind of one-dimensional villain fodder which seem primed for an ass-kicking from Dominika. Instead, she decides to turn their chicanery against them. Initially, this approach proffers a tangled web of intrigue but the screenplay is so concerned about how to get to its convoluted conclusion that it frequently forgets to point out where we're at along the way.
There are several seemingly disconnected scenes employed on this journey to a resolution that was presumably was supposed to prompt an "Oh my God!" reaction rather than the "Oh, okay, I guess" response it garners instead. The common issue with twist endings is the obvious signposting that comes before, but just as fatal is when the route is obscured entirely and Red Sparrow is certainly guilty of keeping its cards too close to its chest. This results in long stretches of boredom where Dominika engages in activities that apparently have no bearing on her current objectives. To try to keep audiences attention with lashings of sex and torture in between these is a cheap trick that ultimately doesn't work. Much like the film itself.
VERDICT:
D+
JENNIFER LAWRENCE AT HER VERY BEST CANNOT SAVE RED SPARROW FROM ITS VIOLENT MOOD SWINGS AND OCCASIONALLY DISTASTEFUL CONTENT. PERHAPS ITS ONLY SAVING GRACE IS THAT IT HAS LEFT THE DOOR WIDE OPEN FOR MARVEL TO DO THIS PROPERLY WITH BLACK WIDOW.