TV
SEASON REVIEW: 'GAME OF THRONES' SAVES ITSELF AT THE SEVENTH HOUR
They say you should be careful what you wish for. I nearly swore off Game of Thrones mid-way through Season 4 after becoming weary of wading through an oversaturation of characters and bloated plotting every week. But Season 5 re-invigorated my interest in Westeros by trimming the fat and concentrating almost solely on key characters with a new spring in its step in terms of pacing.
Furthermore, free from any adherence to George R.R. Martin's weighty tomes, Season 6 had seemingly proved my suspicion that its fidelity to its source material had been holding it back. Gone was the triple X-position of having characters relay huge swathes of politics and plot in whorehouses all while it struck a near perfect balance between Hollywood spectacle, Machiavellian machinations, and grisly deaths.
Unfortunately, this year's fleeting Season 7 very nearly undid not only the show's fine solo work but almost everything leading up to this point. While fans may fall back on the self-imposed brevity of this season to explain its haphazard acceleration in terms of pacing, the identity crisis that the show started to experience as a result is not so easily excused.
DEPRIVED OF SCUM AND VILLAINY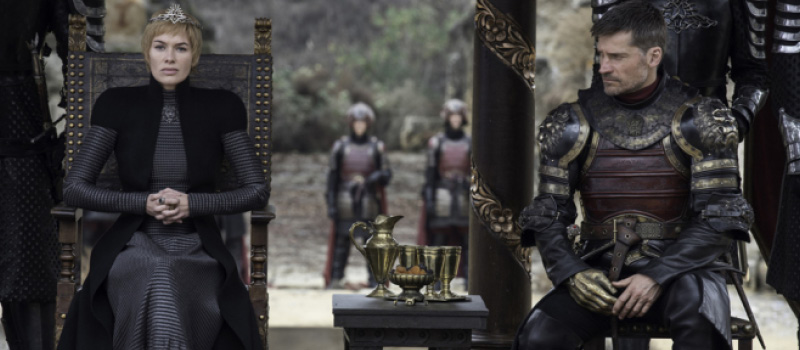 A central pillar of the appeal of Game of Thrones has always been the show's callous and capricious attitude towards its main characters. No matter how pure of heart or vital to the narrative they were, no character ever seemed to be off limits when it came to the possibility of a sickening demise. This was the series' USP and one that has continually compelled, delighted and horrified fans over the last seven years.
However, while earlier seasons were always prudent enough to re-stock the roster after the various massacres and murders, the post-Season 4 direction of a tighter focus on protagonists while keeping up the kill count has left GoT looking somewhat profligate in its later stages. Particularly as far as villains are concerned.
We have been spoiled for choice as to where to direct of righteous hatred in the past with the likes of Joffery, Ramsey Bolton, the High Sparrow, and Walder Frey all competing for our ire. By the time Season 6 culminated, however, virtually all of the show's scoundrels had met with a deserved demise leaving only one significant proponent of the dark arts standing: Cersei.
As a result, the new queen of the Seven Kingdoms had to do most of the heavy lifting as an antagonist this season and was given a perplexingly short amount of screen time to do so. Indeed, her friction with Jamie's new-founded compassion led to an intriguing schism between the show's old ways and its more gentler meta, but the two spent most of this run separated.
Clearly, we are supposed to be more concerned by the threat north of the Wall, but the Wightwalkers remain a blunt instrument compared to the scalpel-like deviousness of previous villains. And even with Cersei now being the sole ventricle of the show's dark heart, her achievements in being dastardly only consisted of conceiving another incest baby and a veiled threat to betray the tentative truce struck in Episode 7 were quite underwhelming.
Admittedly, Euron Greyjoy gave it a good go to fill the giant Ramsey Bolton-shaped hole that gaped throughout this season, but his impetuousness and vanity made him often seem more like a Donald Trump tweet come to life and he lacked the sickening menace of Iwan Rheon's sadistic bastard. That said, a question mark must remain over exactly how far Arya Stark will be prepared to go in her quest to complete her "list" that could still very much lead her to the dark side, but her murderous ambitions were pushed to the bookends of this season which yet again left a feeling of us only getting a reduced dose of wickedness for Season 7.
It wasn't this lack of Machiavellian menace that caused the greatest amount of concern in Season 7, though.
JUMPING THE STARK?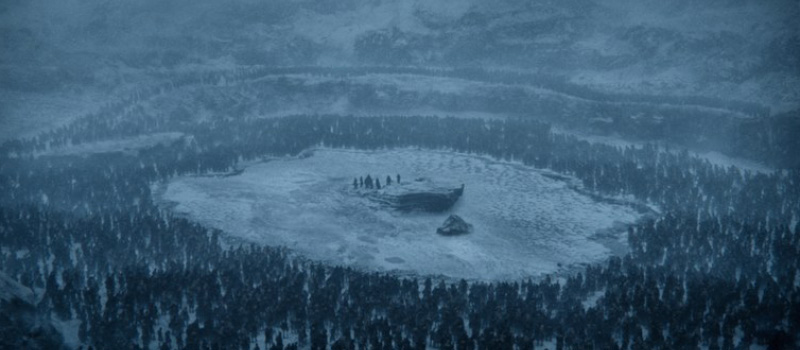 There were some early warnings that Game of Thrones wasn't taking proceedings quite as seriously as it once did. The stunt casting of a certain soppy singer-songwriter in a crucial scene where Arya demonstrated she had still retained a slither humanity after her deeds was certainly one of them. But it was in Episode 6 where the once uncompromising show threatened to replace high-drama with high-camp that had more eyes rolling than the multitude of decapitated heads during Joffrey's reign.
In an episode that mainly concentrated on Jon Snow's excursion beyond the Wall to capture a specimen of the undead, we were given an incredulous demonstration of the wrong turns Game of Thrones could be heading down without the guidance of G. R. R. Martin's text. That the expedition party consisted mostly of MIA characters from seasons past and an unhealthy allocation of red shirts gave an early indication that things were not likely to go well and such a set-up had us gleefully sharpening our knives in anticipation for a high-profile casualty. What we hadn't counted on is the show's new found sense of immersion breaking mercy.
I lost count of a number of deus ex machinas utilized to pull the King of the North out of peril during this episode's ample running time. Whether it was the super-sonic raven that traversed the entire of Westeros in just a few hours so Daenerys could come to save her crush and the ridiculous fortune of his uncle appearing from nowhere to save him when he looked to be supremely screwed.
It's understandable that main characters have become something of a protected species in these closing stages (see also Jamie Lannister being spared a roasting in Episode 4) in a show that has so callously culled its cast in the past, but to vehemently break any sense of verisimilitude in the process is unforgivable and is decidedly at odds with the show's previously cold-blooded nature.
SCHLOCK & AWE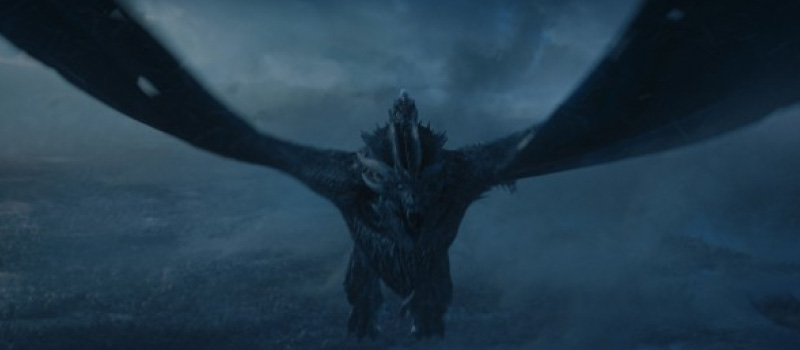 So, it fell to the extended finale to see if Season 7 could recover from its dalliance with absurd contrivances and lead us into the unnecessarily long break until Season 8 with a semblance of its reputation intact.
Initially, it seemed the "more speed, less haste" attitude of this season had wasted episodes worth of intrigue when the truce between the three Iron Throne candidates hastily arranged, then scrapped, then re-arranged was handled in half an hour of screen time, but at least Lord Baelish's long overdue comeuppance gave us one notable sacrifice for the season.
The sight of an undead dragon making short work of the Wall was undoubtedly a sight behold and made the threat of Wightwalkers unbearably prescient. One does have to wonder what exactly was their plan for getting through the icy barrier before they got their hands on the winged beast, but the idea of Season 8 giving us a Kaiju scale showdown between the dragons means this is one fortuitous machination we can maybe let slide.
However, it was the revelation of Jon Snow's heritage that finally gave us hope that GoT's tar-black heart is still beating. Not only did it make us squirming voyeurs of a scene of unwitting incest, but it also sets up a future power struggle between Jon and Daenerys that will hopefully make up for the lack of political skullduggery in this season.
Overall, though, Season 7 of HBO's televisual phenomenon most closely resembled Lord Varys: it can still engage and charm us with pithy banter and a compelling tale, but it's lost its balls somewhere along the way and it can't be trusted not to rely on cheap tricks to get itself out of trouble.
GRADE:
C+
OVER THE SPACE OF ONE SHORT SEASON, GAME OF THRONES VERY NEARLY TRANSITIONED FROM BEING GREAT GENRE TELEVISION TO SIMPLY BEING GENERIC. WHETHER THE SHOW'S CURRENT ADDICTION TO BOTH HOLLYWOOD SPECTACLE AND CONTRIVANCE HAS BEEN CURED OR MERELY INTERRUPTED BY THIS SEASON'S FINAL TWIST IS A QUESTION WE'RE GOING TO HAVE TO WAIT AN UNREASONABLY LONG TIME TO BE ANSWERED.