MOVIES
A HISTORY OF VIOLENCE: THE STORY OF THE R-RATED COMIC BOOK MOVIE
With 20th Century Fox's Logan posting strong box office returns over the weekend and following on from last year's fellow X-Men spin-off Deadpool as a bona fide R-rated hit, it's starting to feel like we're entering into a new, mature age of comic book movies. Of course, there is an air of inevitability about the genre finally moving out of its mom's basement since audiences who were kids when the Golden Age of comic book movies began in the early 2000's have now come of age so the content and nature of genre has had to mature with them.
However, perhaps the only truly "new" aspect to R-rated comic book movies is the level of success they are currently enjoying. Efforts to get the genre to start acting its age began over two decades ago, long before Wade Wilson started breaking limbs and fourth walls, and it's an aging process that has endured more than a few growing pains.
SWEET SIXTEEN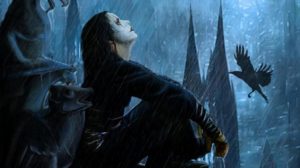 If the birth of the modern comic book movie began in 1978 with Richard Donner's Superman, then it is fitting that 16 years later the genre took its first steps into the adult world with Alex Proyas' The Crow being the first comic book adaptation to gain an R-rating. Looking back on the gothic cult favorite now, it's hard to argue The Crow is a mature piece of cinema with all of Eric Draven's sulky guitar playing on rain-soaked rooftops and the film's unashamedly histrionic script (if you believe "It can't rain all the time" then clearly you've never been to Seattle). But credit where credit's due, The Crow is a committed piece of work with a strikingly dark tone and visualizations featuring a level of violence and drug use that certainly wasn't for younger viewers. Perhaps most importantly, though, The Crow did decent box office and posted a significant return on a production budget that wouldn't get Robert Downey Jnr. out of his trailer in today's comic book economy.
With the genre have broken its cherry, it was inevitable that others would try to follow suit and two Dark Horse Comics properties were next to try to appeal to adults. 1995's Tank Girl was first to go to bat and lost nearly $20 million in the process with the film being far too bizarre for mainstream audiences and is only notable now for an early appearance by a certain Naomi Watts. The following year saw the release of the tawdry Barb Wire starring Pamela Anderson, which again returned a deficit, with many at the time optimistically thinking the comic book genre had hit its nadir with this salacious attempt to sex-up the genre.
But in 1997, it became clear that the comic book movie had found a way to drill through rock bottom with the release of the truly abhorrent Batman & Robin and Spawn. These were extremely dark times for the genre with critics and audiences alike pouring deserved derision on the lack of respect and quality control being applied to adaptations. It was only a year later, however, when an R-rated savior appeared in the guise of Marvel's Blade.
While Stephen Norrington's take on the Daywalker doesn't quite reach classic status with Wesley Snipes being almost preposterously deadpan in the lead and Stephen Dorf's Deacon Frost underwhelming as an antagonist, Blade did reverse the decline in reverence and quality the genre had been suffering from and delivered some healthy box office takings in the process. This was partly thanks to its distributors, New Line Cinema, being confident in allowing a level of violence and blood-letting that hadn't been seen before in a comic book adaptation but absolutely necessary in getting such films taken seriously again. With the dawn of the golden age of comic book movies just around the corner, Blade remains an often overlooked landmark that indicated cinema was getting closer to being able to fully realize these characters on screen.
DID ANYONE WATCH THE WATCHMEN?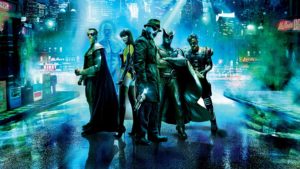 10 years after the release of Blade, the comic book genre hit new heights with the release in 2008 of Jon Favreau's Ironman and Christopher Nolan's The Dark Knight. Acclaim and box office success greeted both, with The Dark Knight being the first comic book movie to break the $1 billion mark. Despite The Dark Knight's slightly dubious PG-13 rating that precludes it from this story, Nolan's film ushered in a new level of maturity and expectation for the genre that its distributor, Warners, was clearly committed to continuing.
After the success of Zack Snyder's R-rated adaptation of Frank Miller's 300 raked in considerable coin for Warners in 2007, the studio handed the director the keys to comic books' holiest of holy's: Watchmen. With an unprecedented production budget of $130 million (still the highest ever for an R-rated comic book adaptation), Snyder faced a huge challenge in adapting Alan Moore's revered post-modern take on the superhero mythos that had been languishing in development hell since the late 80's.
Fans remain divided on the final result of Snyder's film but what cannot be debated was that a return of only $185 million was not good enough and Watchmen undoubtedly lost Warner's money when one considers marketing and distribution costs on top of that hefty production budget. There's a heavy dose of irony in an adaptation of a graphic novel which had done more than any other to get its medium taken seriously was in danger of stunting the maturity of its cinematic equivalents with its poor box office performance and a divisive reception with fans and critics.
Although Kick-Ass did sterling work in restoring the reputation of the R-rated comic book adaptation a year later, it had to rely on independent funding as the fiscal validity of adult-themed comic book movies was thrown into doubt. In the wake of Watchmen's financial failure, the future looked dim for R-rated versions of comic book heroes. While the genre went onto new box office heights with the more family orientated fare of the Marvel Cinematic Universe, only Lionsgate ventured back into R-rated territory with its reboot of Judge Dredd in 2012. Dredd was not as costly as Watchmen but it again failed to turn a profit despite many fans and critics giving it a seal of approval.
The box office viability of R-rated exponents of comic books had become almost invalid in cinema's now dominant genre where it was increasingly the case that big budgets were required to land big openings and even bigger grosses. Studios were understandably reluctant to show the same commitment now needed to fully realize comic book properties to adults-only audiences when returns carried far more solid guarantees if a comic book movie could qualify to be on a Happy Meal box.
But with the comic book genre's audience becoming more mature both in years and tastes, it would take a decidedly immature character to convince Hollywood to start catering to their needs again.
ALL GROWN UP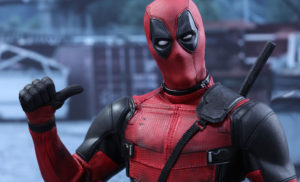 There are several jibes from Ryan Reynold's Wade Wilson in last year's Deadpool about the difficulty of bringing this defiantly adults-only version of the character to the big screen. There had been a movie version planned of the Merc With A Mouth since 2000 with several studios passing on the property until 20th Century Fox tried to abortively include him in 2009's X-Men Origins: Wolverine. Six years later, Fox would -almost reluctantly- try again with Wade in his own movie thanks to some test footage of Reynolds as Deadpool leaked online and proved popular with fans.
Even then, Fox remained cautious with the project due to its inevitable R-rating and reduced the already relatively small production budget further as confidence waned for the movie. Fittingly, it would be Wade who had the last laugh as Deadpool went on to break the record for an R-rated movie's opening weekend as it pulled in an impressive $132 million in just three days. Deadpool's success thrived on Reynold's portrayal of the character -which had been shown off to full effect in the film's marketing- and in a genre in which everyone was trying to keep up with the MCU by playing them at their own game, Deadpool exploited a chink in their squeaky clean armor by being as down and dirty as possible.
It can only produce a wry smile to describe Deadpool as a "grown up" film, though. Deadpool is about as mature as a "Yo' Mama" joke and it definitely isn't ashamed of that. This year's Logan, however, is arguably the most mature and explicit addition to the genre to date.
You can read our full review for Logan here, suffice to say that this deconstructive take on the former Wolverine resembles a modern western more than a traditional comic book film and its frames are either filled with unflinching, painful violence or cuss-filled introspection. But it's not just Logan's mature attitude and depiction that is notable, its success over the weekend marks the first time a genuine trend of success has emerged among R-rated comic book movies that actually rivals its tamer brethren.
It's too early to say if these two films mark a paradigm shift within the comic book genre but they may have finally proved the validity of the R-rated comic book movie which has been so inconsistent over the last two decades.