COMICS
RECOMMENDED READING: DEADPOOL
The Merc with the Mouth is back in theaters this weekend. Get up to speed on everyone's favorite assassin with our latest Recommended Reading!
When Deadpool debuted in the pages of New Mutants #98 way back in 1990, no one could have foreseen his meteoric rise in pop culture. With a string of hilarious comics and a blockbuster film already under his belt, Deadpool is a certified superhero powerhouse. Not bad for a cheap imitation of Deathstroke the Terminator.
Yes, Marvel's misfit mercenary rose from humble beginnings to enjoy a long and varied publication history that is the subject of this installment of Recommended Reading.
As with all good stories, sometimes the best place to start is at the beginning. No, not like the real beginning, but rather my beginning. You see, 1993's Deadpool: Circle Chase mini-series was the first comic series I had ever read. Prior to this run Deadpool was a somewhat unremarkable character. It was here that writer Fabian Nicieza established much of Deadpool's trademark personality and storytelling. The story was brought to life by a young artist by the name of Joe Madureira. I hear he's done pretty okay for himself since then.
This run introduces Deadpool's long-time BFF Weasel and builds on a number of long-time relationships with characters like Kane, Copycat, Black Tom Cassidy, and Juggernaut. Deadpool himself also transforms into the motor-mouth wise ass we all know and love. This series made me fall in love with the character and comics as a medium. It's just loads of 90's era fun and a great way to get acclimated with the character.
Even with this great start, it still took a few years for Deadpool to really gain traction as a character. That didn't happen until 1997's now classic Deadpool ongoing series courtesy of writer Joe Kelly and artists Ed Mcguinness. This title is seen by most fans (myself included) as the definitive version of Deadpool. There's no wonder why many elements of it were lifted by Ryan Reynolds and Tim Miller for the 2016 motion picture.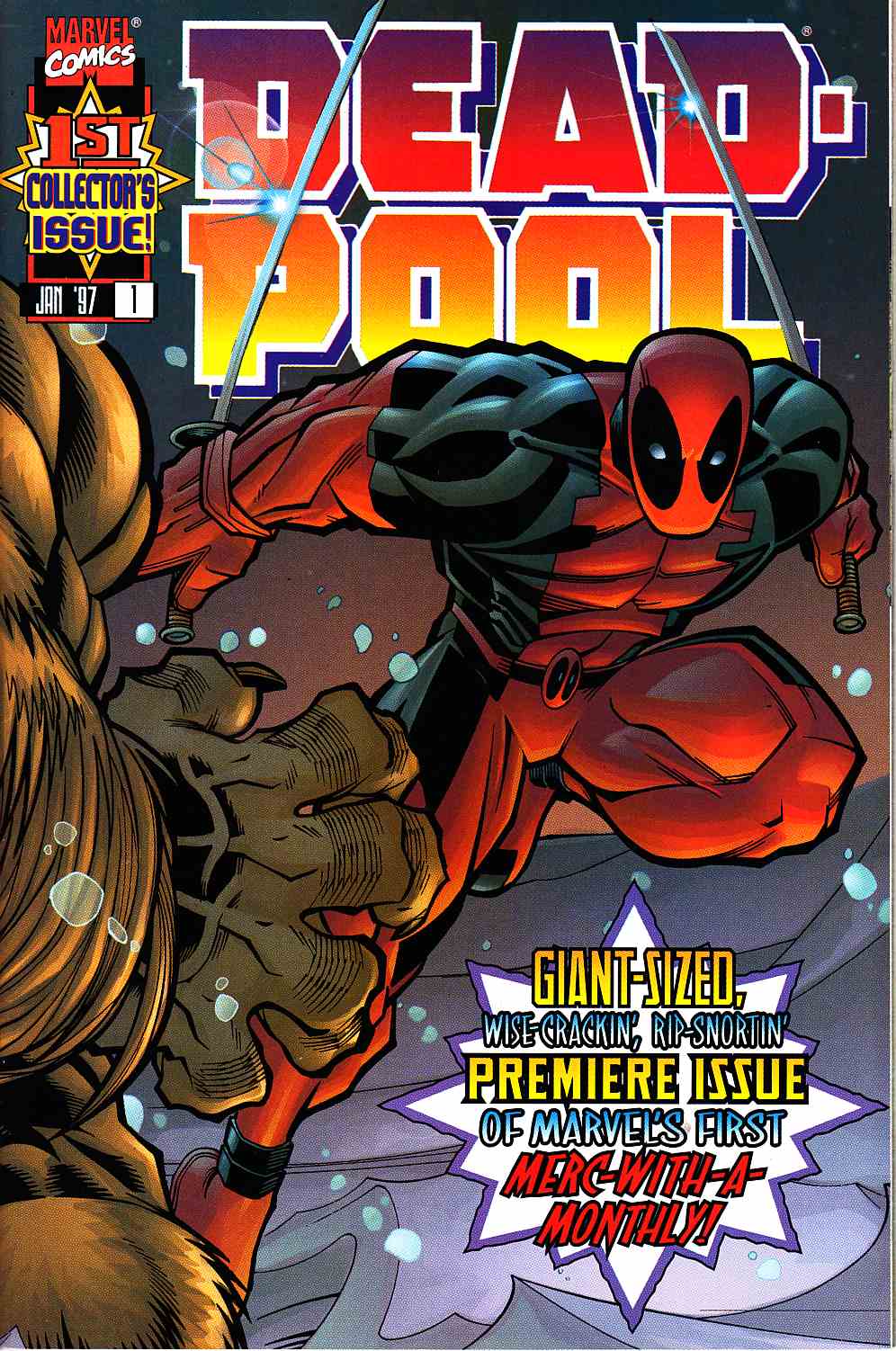 For the first time we see Deadpool's personality fracture further by having him regularly speak to himself and completely demolish the 4th wall with constant comic book references. Kelly also introduces the character Blind Al and establishes his extended network of frenemies like Taskmaster, Hydra Bob, Wolverine, and an ever reluctant Spider-Man.
Make no mistake that this is the comic that launched Deadpool into superstardom. It's hilarious and brutal, but at the same time more measured and reserved than future stories. Quite simply, it's Deadpool at his absolute best. From here on, he became and essential part of the Marvel Universe.
Not long after Kelly wrapped up Fabian Nicieza returned to the character for a new ongoing series that would pair Deadpool with the one person who perhaps hates him the most, paramilitary cyborg badass Cable. The two bitter rivals were brought together (literally) with 2004's Cable and Deadpool. The odd couple pairing made for some dynamic storytelling with plenty of action to spare.
Over the 50 issue run of the title, Deadpool and Cable built a mutual respect and admiration resulting in each repeatedly saving the other. At the core of this series there's a strong narrative of how two people who seem to have every reason to hate each other can overcome their differences and become partners, and dare I say, friends.It's an incredible and absolutely essential run for Deadpool. It sets him down a path of becoming a true superhero.
The end of Cable and Deadpool bridges wonderfully with Uncanny X-Force. Published in 2010 by the ever dependable Rick Remender, it featured Deadpool as a new member of the Wolverine-led X-Men's black ops team. It's a joy seeing Deadpool finally take a position within the ranks of the X-Men, but it proves to be a difficult transition – only not in the way you would expect.
Deadpool shines as the unexpected heart and moral compass of the team. Remender pens Wade Wilson as a much more subdued, still retaining his sense of humor, but now more serious about doing some good in the world. His arc here is very much about redemption and it's some of the most satisfying character work ever performed. Seriously, it's that good. Any Deadpool collection without this title is doing itself a tremendous disservice.
For even more Deadpool within a team dynamic, but with a little more fun, look no further than Daniel Way's run on Thunderbolts. Deadpool joins Agent Venom, Punisher, Elektra, and Red Hulk as the ultimate collection of anti-heroes. The character is completely at home on this roster of dysfunctional personalities that would prefer Wade embrace his panache for violence than suppress it.
This version of the Thunderbolts are high octane and high casualty, which makes for a fun read. Deadpool takes more of a backseat to the other characters, but it's a treat to see him reacting to the events around him. The title does a great job of not weighing the reader down too much with heavy plot threads. This is Marvel's version of The Expendables. It's all about enjoying the mayhem and Deadpool is pitch perfect for this series. A team this volatile wasn't meant to last and it concludes in truly epic fashion.
That about covers it so far, but with Deadpool 2 in theaters this week and a new series courtesy of Skottie Young, there will be plenty more great things in store. It's Deadpool's world, we're just living in it.
Did your favorite title make the list? Sound off below and let us know your favorite Deadpool story!