COMICS
BOOK OF THE MONTH: 'SECRET LOVES OF GEEKS'
It's entirely possible that the only thing people love more than having feelings of love, is talking about those feelings. In fact, Webster's Dictionary defines defining love as the most cliched way to talk about love. But, so what? The point of love is that there doesn't always have to be a point. Sometimes the people and things that we love defy all logic and that's okay. We can just love them anyway.
Sometimes not knowing or understanding why is what makes love so great.
And sometimes it's nice to dissect every aspect until love becomes obsession and we understand XYZ better than anyone else ever could.
Welcome to fandom.
And welcome to The Secret Loves of Geeks, a collection of written prose and comics by various comics creators, published by Dark Horse and edited by Hope Nicholson (who we were recently lucky enough to talk to!). The book was released earlier this month, on February 14th, and what better time for a story about love than Valentine's Day?
It's important to recognize right away, however, that these stories are about so much more than just romantic love. They are personal accounts from creators of diverse genders, orientations, and cultural backgrounds showcasing a number of forms of love and all the ways we hide it, and ourselves, from the world, even now that being a geek is generally considered to be sort of trendy now. Maybe, even–dare I say it?–a little cool.
The term "fandom" describes a group of people that all enjoy the same thing; a TV show, a comic book, a band, sports. Fandom is what happens when people come together to discuss fan theories, makeup headcanons, and to just generally enjoy sharing the existence of that thing with other people who feel the same way. Love is about acceptance and belonging, and so, at its core, is fandom.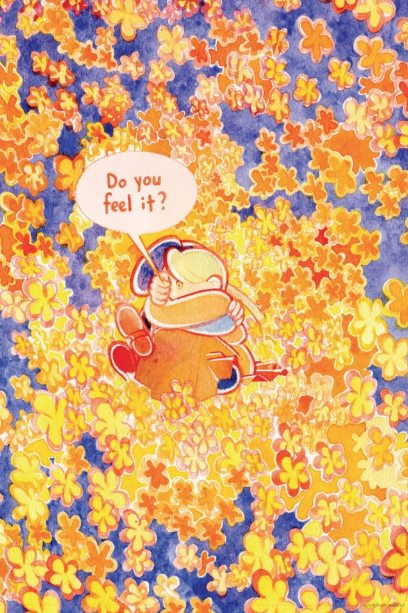 The Secret Loves of Geeks tells a narrative in many parts from many perspectives about being in love with the idea of geek culture–the conventions, the people, the characters and stories–and through it, finding love. Stories such as Cecil Castellucci's 'My Phantom Menace' and 'Deceptively Normal' by Dana Simpson are about discovering romance through shared passions and interests.
Meanwhile, 'Dear First Love' by Vita Ayala and Jessi Jordan is a literal love letter to comic books and Margaret Atwood's 'The Horror, The Horror' with art by Michael Walsh and Jordie Bellaire depicts the author's obsession with the genre of horror and how it impacted her life as a teenager.
Some stories consider the place of love in society, like 'Women Love Jerks' by Cara Ellison and Maddison Chaffer or 'What Girls Want' by Speranza, which deny the commercialized stereotypes about what and who women find attractive and delve deeper into the psychological aspects of desire. Or like Ivan Salazar's 'The Walter Mercado Effect' which considers the role of queerness in Latinx culture, or lack thereof. These stories in particular, far from denying or refusing love, are the stories that really consider what love means as both an individual experience and an enduring concept.
Predominantly, however, these are stories about finding self-love and acceptance within a community, whether it's realizing that other people interpret characters differently, too, like in 'Tell Me About Your Trans Headcanons' by Sfé R. Monster or about coming to terms with asexuality and finding people who understand like in Letty Wilson's 'Smudged.' As Jen Vaughn's 'The New Gods of The Airwaves' and Amanda Deibert and Catt Staggs's 'Harry Potter and the Awkward Coming Out Story' prove, there is magic in acceptance.
Throughout it all, there is a persistent theme of isolation, of loneliness that is both personal and social, but as each story proves, it isn't insurmountable. This is a book that seeks beyond all else to insist to the reader that they are not alone.
The Secret Loves of Geeks is a follow up to another of Nicholson's anthologies, The Secret Loves of Geek Girls, which took a similar look at the lives and experiences of women as reflected through that lens of fandom. While these experiences naturally vary from person to person, there is a common bond forged as these stories are shared with people who recognize their own truths within the stories.
Artists are trusting their audiences with something incredibly personal and intimate when they write about their own lives and experiences, especially when the subject matter is in turn so personal and intimate. They are hoping that their truths will resonate within others and will forge a bond of solidarity between them, even if they never meet.
And that's really what makes love in the time of geeks so great. The Secret Lives of Geeks shows that love doesn't have to be reserved for just one person. It doesn't have to adhere to preconceived notions or traditions. Love is not a rare commodity. It's meant to be shared and enjoyed and appreciated.
This book wants us to recognize that we are all geeks in one way or another and it's okay to be proud and love the things we love. That's what makes them, and us, worth loving.