COMICS
DC COMICS APRIL 2018 FULL SOLICITATIONS
April promises to be a huge month for DC Comics! The world's longest running comic book title Action Comics will be celebrating a truly epic run with issue #1000. To put that in perspective, pretty much every kid that owned the original Action Comics #1 is dead. Well — with that grim reminder out of the way, take a look at what DC has in store for the event and all the other great titles premiering in April.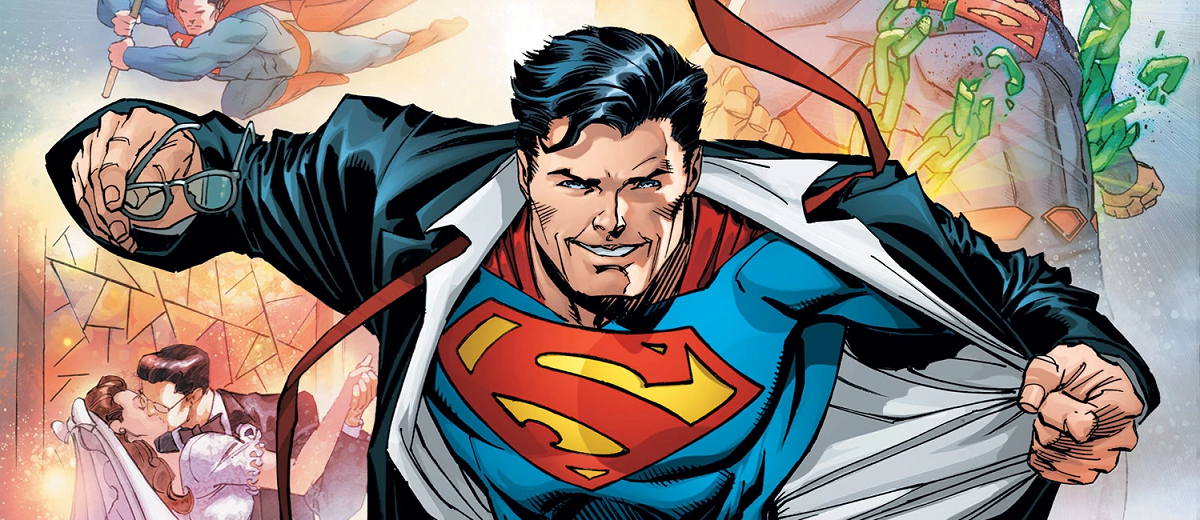 ACTION COMICS #1000
Cover by JIM LEE and SCOTT WILLIAMS
Stories and art by an all-star lineup of top talent
Retailers: This issue will ship with ten covers. Please see the order form for details.
Celebrate 1000 issues of Action Comics with an all-star lineup of top talent as they pay tribute to the comic that started it all! From today's explosive action to a previously unpublished tale illustrated by the legendary Curt Swan to the Man of Tomorrow's future—this very special, oversized issue presents the best of the best in Superman stories!
FEATURING ALL-NEW ART AND STORIES BY:
BRIAN MICHAEL BENDIS
JOHN CASSADAY
OLIVIER COIPEL
PAUL DINI
JOSE LUIS GARCIA-LOPEZ
PATRICK GLEASON
BUTCH GUICE
GEOFF JOHNS
DAN JURGENS
TOM KING
JIM LEE
CLAY MANN
BRAD MELTZER
JERRY ORDWAY
TIM SALE
LOUISE SIMONSON
SCOTT SNYDER
CURT SWAN
PETER J. TOMASI
MARV WOLFMAN
…AND MORE! DECADES-SPANNING OPEN-TO-ORDER VARIANT COVERS BY:
• STEVE RUDE (1930s)
• MICHAEL CHO (1940s)
• DAVE GIBBONS (1950s)
• MICHAEL ALLRED (1960s)
• JIM STERANKO (1970s)
• JOSHUA MIDDLETON (1980s)
• DAN JURGENS (1990s)
• LEE BERMEJO (2000s)
DAMAGE #4
Written by ROB VENDITTI • Art by CARY NORD • Cover by TONY S. DANIEL
Poison Ivy attacks a group of fieldworkers, forcing Ethan to choose between transforming into Damage and saving them—or protecting his own sanity! And will Colonel Jonas and her squad capture him before he discovers the truth about what he really is?
On sale APRIL 18 • 32 pg, FC, $2.99 US • RATED T
SIDEWAYS #3
Written by DAN DiDIO and JUSTIN JORDAN • Art by KENNETH ROCAFORT
Life is moving pretty fast for Derek James…and unfortunately, things are about to get even faster as he is forced to fight a super-speedster hell-bent on destruction—all while wearing no pants! Can Sideways move through space and time quick enough to stop a new villain born out of the recent Speed Force Storm: Killspeed? Also, what better way to learn about Derek's powers than right from the horse's mouth—featuring a backup story hosted by Sideways himself! On sale APRIL 11 • 32 pg, FC, $2.99 US • RATED T
THE SILENCER #4
Written by DAN ABNETT • Art by VIKTOR BOGDANOVIC • Cover by JOHN ROMITA JR. and SANDRA HOPE
"PAYBACK TIME" part one! The Silencer has been targeted by every hit man, meta-mobster and weapons-depot dropout that the Leviathan organization has to offer—now it's time for Honor Guest to take the fight back to them! Too bad Deathstroke has other plans. Silencer squares off against Slade Wilson as we kick off a brand-new epic! And this duo's devastating past run-in will leave you speechless! On sale APRIL 25 • 32 pg, FC, $2.99 US • RATED T+
THE TERRIFICS #3
Written by JEFF LEMIRE • Art by IVAN REIS and JOE PRADO • Cover by IVAN REIS
"MEET THE TERRIFICS" part three! When will this superhero team bound by dark multiversal magic ever get any privacy? It certainly won't be today, because while Mr. Terrific feverishly works to free himself from Metamorpho, Plastic Man and Phantom Girl—but mostly Plastic Man—the team must also contend with the towering, rolling death-inferno that is the War Wheel. On sale APRIL 25 • 32 pg, FC, $2.99 US • RATED T
DC SUPER HERO GIRLS: OUT OF THE BOTTLE TP
Written by SHEA FONTANA • Art by MARCELO DiCHIARA, AGNES GARBOWSKA and MIRKA ANDOLFO • Cover by YANCEY LABAT
Harley Quinn takes center stage in the new volume of the DC Super Hero Girls graphic novel series, DC SUPER HERO GIRLS: OUT OF THE BOTTLE!
For an assignment in Ms. June Moone's art class, the girls are working on their very own comic books. The character-created comics pages give us a glimpse into each girl's personality. But Harley isn't satisfied with her comics creation and thinks a little of Ms. Moone's special paint will really help her drawings come to life! The problem? Harley's drawings literally come to life! On sale AUGUST 1 • 128 pg, FC, $9.99 US • DIGITAL FIRST
AQUAMAN #35
Written by DAN ABNETT • Art by RICCARDO FEDERICI • Cover by HOWARD PORTER • Variant cover by JOSHUA MIDDLETON
Retailers: This issue will ship with two covers. Please see the order form for details. Includes a code for a free digital download of this issue.
"KINGSLAYER" part one! After King Rath discovers that Arthur is still alive, he sends Aquaman's former ally Murk to finish the job—or else be executed as a traitor! Meanwhile, Rath's new power has a terrifying cost…one that will change Atlantis forever! Plus, the events of DARK NIGHTS: METAL begin to take effect on the sunken city…
On sale APRIL 18 • 32 pg, FC, $3.99 US • RATED T
MERA, QUEEN OF ATLANTIS #3
Written by DAN ABNETT • Art by LAN MEDINA • Cover by NICOLA SCOTT
After a brutal clash between Mera and Ocean Master almost costs Mera her life, Tula suggests that the three of them work together to save Atlantis—and recruiting an army will require a united front. Can Mera and Orm be united by a common enemy? Or will their hatred of each other be their undoing?
On sale APRIL 25 • 32 pg, FC, 3 of 6, $3.99 US • RATED T
BATGIRL #22
Written by HOPE LARSON • Art by MINKYU JUNG and JOSE MARZAN JR. • Cover by DAN MORA • Variant cover by JOSHUA MIDDLETON
Retailers: This issue will ship with two covers. Please see the order form for details. Includes a code for a free digital download of this issue.
"STRANGE LOOP" part one! After a routine mission to save the day, Batgirl realizes she's been spending a little too much time in costume. Her life as Barbara Gordon is in a rut, and it's time to focus on changing things for the better. Can the sudden reemergence of her former love interest, Kai, be a sign of good things to come? Or is he bringing all kinds of trouble with him? Things are not what they seem in Burnside, and it's up to Batgirl to figure out why!
On sale APRIL 25 • 32 pg, FC, $3.99 US • RATED T
BATGIRL AND THE BIRDS OF PREY #21
Written by JULIE BENSON and SHAWNA BENSON • Art by ROGE ANTONIO • Cover by TERRY DODSON and RACHEL DODSON • Variant cover by KAMOME SHIRAHAMA
Retailers: This issue will ship with two covers. Please see the order form for details. Includes a code for a free digital download of this issue.
"Full Circle" part three! The Calculator has broken Blackbird and Fenice out of Arkham Asylum, putting targets on Batgirl's and Huntress's backs. And while our heroes are out of the picture, Calculator holds Gotham City hostage in exchange for Oracle's identity. The team will have to risk setting a trap for Calculator—a dangerous move that could expose Barbara Gordon's deepest secrets!
On sale APRIL 11 • 32 pg, FC, $3.99 US • RATED T
BATMAN #44
Written by TOM KING • Art by MIKEL JANIN and JOELLE JONES • Cover by MIKEL JANIN • Variant cover by OLIVIER COIPEL
Retailers: This issue will ship with two covers. Please see the order form for details.
"SOMETHING BLUE"! Follow Batman and Catwoman on two separate but parallel paths as their wedding planning kicks into high gear. Selina picks out her dress, and Bruce starts to make arrangements for their new life together—but this being Gotham City, and they being Batman and Catwoman, you can bet that nothing will go as expected!
On sale APRIL 4 • 32 pg, FC, $2.99 US • RATED T
BATMAN #45
Written by TOM KING • Art by TONY S. DANIEL and SANDU FLOREA • Cover by TONY S. DANIEL • Variant cover by OLIVIER COIPEL
Retailers: This issue will ship with two covers. Please see the order form for details.
"THE TRAVELERS" part one! Booster Gold has come to Gotham City, and he's enlisting Batman and Catwoman to go on a time-traveling mission to rescue…Booster Gold! It seems a younger Booster Gold has gone back in time to kidnap an even younger version of himself, and to rescue his own past, Booster must pursue both of his previous incarnations through Batman's history to find out what is going on. The start of a new story that will sow the seeds for a whole new epic to come—and also the return of Master Class artist Tony S. Daniel (DAMAGE) to BATMAN!
On sale APRIL 18 • 32 pg, FC, $2.99 US • RATED T
BATMAN: SINS OF THE FATHER #3
Written by CHRISTOS GAGE • Art and cover by RAFFAELE IENCO
Based on the hit video game series from Telltale Games! Having eliminated all the obvious suspects behind the killing of former Arkham employees, Batman breaks into the most secure area of the facility to search their most deeply buried files, only to be ambushed by the villain known as Black Spider. Meanwhile, the search for Deadshot's true identity points toward a family called the Lawtons—a family with a dark and twisted history.
On sale APRIL 18 • 32 pg, FC, 3 of 6, $2.99 US • RATED T+ • DIGITAL FIRST
BATMAN/TEENAGE MUTANT NINJA TURTLES 2 #6
Written by JAMES TYNION IV • Art and cover by FREDDIE E. WILLIAMS II • Variant cover by KEVIN EASTMAN
Retailers: This issue will ship with two covers. Please see the order form for details.
It's the final battle as the Bat-family and the Turtles face off against Bane and the Foot Clan on Liberty Island. With America's great symbol of freedom watching over them, the Dark Knight and the Heroes on a Half-Shell must bring Bane's tyrannical rule over New York to an end. And don't forget about Shredder. What role will that deadly villain have to play in all of this? It's all-out action in this exciting series conclusion.
On sale APRIL 18 • 32 pg, 6 of 6, FC, $3.99 US • RATED T
BATMAN BEYOND #19
Written by DAN JURGENS • Art by PHIL HESTER and ANDE PARKS • Cover by BERNARD CHANG • Variant cover by DAVE JOHNSON • Retailers: This issue will ship with two covers. Please see the order form for details. Includes a code for a free digital download of this issue.
"The Long Payback" finale! When Batman was at the mercy of Payback, Melanie Walker—a former member the Royal Flush Gang—swooped in to save his life. Now, with Melanie on the receiving end of Payback's wrath, Terry will have to return the favor. But can a bruised and battered Batman save the day, or will he need the help of his mysterious new partner?
On sale APRIL 25 • 32 pg, FC, $3.99 US • RATED T
BATMAN: WHITE KNIGHT #7
Written by SEAN MURPHY • Art and cover by SEAN MURPHY • Variant cover by SEAN MURPHY
Retailers: This issue will ship with two covers. Please see the order form for details.
This issue, it's Jack versus the Joker! Napier's identity crisis spins out of control and compromises his grand plans for Gotham City—but not before he strikes a fateful bargain with Neo Joker. A browbeaten Batman accepts a peace offering from Batgirl, and some unexpected advice from Alfred sets the tone for the GTO's new mission to redeem the city.
On sale APRIL 4 • 32 pg, 7 of 8, FC, $3.99 US • RATED T+
BATWOMAN #14
Written by MARGUERITE BENNETT • Art by FERNANDO BLANCO • Cover by DAN PANOSIAN • Variant cover by RAFAEL GRAMPA • Retailers: This issue will ship with two covers. Please see the order form for details. Includes a code for a free digital download of this issue.
"The Fall of the House of Kane" part two! Vengeance and madness come home to Gotham City! The Many Arms of Death have descended upon the city, bringing a plague that will devour everything Batwoman holds dear—and Alice, Kate's long-lost sister, leads the way!
On sale APRIL 18 • 32 pg, FC, $3.99 US • RATED T+
BLACK LIGHTNING: COLD DEAD HANDS #6
Written by TONY ISABELLA • Art and cover by CLAYTON HENRY
This is it: the climactic battle between Black Lightning and Tobias Whale for the future of Cleveland and the nation! Alien weapons! Flying killers! Police under fire! And the surprises keep coming right through the very last page of this story! Black Lightning's back…but will he survive this ultimate showdown? On sale APRIL 4 • 32 pg, FC, 6 of 6, $3.99 US • RATED T
BOMBSHELLS UNITED #15-16
Written by MARGUERITE BENNETT • Art by ANEKE • Cover by EMANUELA LUPACCHINO
Bombshells divided! The Batgirls are determined to track down the source of their friends' misfortunes back in Gotham City. Their investigation leads to an eerie spit of land, where a lone radio tower projects a deadly signal that curses all who hear it.
On sale APRIL 4 • 32 pg, FC, $2.99 US • RATED T+ • DIGITAL FIRST
BOMBSHELLS UNITED #16
Written by MARGUERITE BENNETT • Art by SANDY JARRELL • Cover by TERRY DODSON and RACHEL DODSON
Wham! The Bombshells dive into a deadly volcanic lair, while the agents of Apokolips clash with the royal roller derby, the female fury, the space jammer—Big Barda! On sale APRIL 18 • 32 pg, FC, $2.99 US • RATED T+ • DIGITAL FIRST
THE BRAVE AND THE BOLD: BATMAN AND WONDER WOMAN #3
Written by LIAM SHARP • Art and cover by LIAM SHARP
Batman arrives in Tir Na Nóg to help Wonder Woman solve the mystery of a murdered god. But while he may be the World's Greatest Detective, he soon learns that the techniques he uses on our world may not aid him in this strange new one. As the investigation continues and new suspects are revealed, this dynamic duo learns that each may be more dangerous than the last.
On sale APRIL 18 • 32 pg, 3 of 6, FC, $3.99 US • RATED T+
CYBORG #21
Written by MARV WOLFMAN • Art and cover by SAM LOTFI
Retailers: This issue will ship with two covers. Please see the order form for details. Includes a code for a free digital download of this issue.
In the DC Universe, Cyborg is the most technical advanced being on the planet—or so we thought. Introducing Mother Box 2.0: Robo-Dojo! Unlike Cyborg, these robots are piloted by the government's best, brightest, and most loyal soldiers. Super Heroes just got a major upgrade produced, developed and financed by S.T.A.R. Labs. On sale APRIL 4 • 32 pg, FC, $3.99 US • RATED T
DEADMAN #6
Written by NEAL ADAMS • Art and cover by NEAL ADAMS
Just as Ra's al Ghul is hidden in this six-part miniseries, so is his near-demonic influence hidden and slowly revealed in this final issue! Boston Brand's death was no accident, but a planned and ruthless murder…orchestrated by none other than the Head of the Demon. What Deadman needs now is either death—or the help of the World's Greatest Detective! On sale APRIL 4 • 32 pg, 6 of 6, FC • $3.99 US • RATED T
THE DEMON: HELL IS EARTH #6
Written by ANDREW CONSTANT • Art and cover by BRAD WALKER and ANDREW HENNESSY
Humanity is on the ropes! Belial's plan has almost taken full effect, with the Hell dome rapidly expanding and consuming all of the Earth! With Etrigan, Jason Blood and the rest of the team down, one will have to make the ultimate sacrifice to give humanity a chance to destroy Belial! Is Earth doomed—along with the entire universe—or is there still a chance to save humanity? All is answered in the cataclysmic conclusion to THE DEMON: HELL IS EARTH! On sale APRIL 25 • 32 pg, 6 of 6, FC • $2.99 US • RATED T
DEATHSTROKE #30
Written by CHRISTOPHER PRIEST • Art by CARLO PAGULAYAN • Cover by LEE WEEKS • Variant cover by JEROME OPENA
Retailers: This issue will ship with two covers. Please see the order form for details. Includes a code for a free digital download of this issue.
"Deathstroke vs. Batman" part one! Beginning this month, a six-issue series-within-a-series featuring the ultimate showdown between DC's fiercest rivals! When Batman discovers a mysterious package containing DNA test results proving that he is not Damian Wayne's biological father, the Dark Knight sets his sights on his son's true father—Deathstroke! But Damian Wayne can't really be Slade Wilson's son—can he? And who sent the package—and why? The ultimate custody battle ensues as the World's Greatest Detective and the World's Deadliest Assassin clash in this instant classic! On sale APRIL 4 • 32 pg, FC, $3.99 US • RATED T+
DETECTIVE COMICS #978
Written by JAMES TYNION IV • Art by JAVIER FERNANDEZ • Cover by EDDY BARROWS and EBER FERREIRA • Variant cover by RAFAEL ALBUQUERQUE
Retailers: This issue will ship with two covers. Please see the order form for details.
"Batmen Eternal" part three! Congratulations, Batwoman—you have an entire army at your command. So how are you going to use it?
On sale APRIL 11 • 32 pg, FC, $2.99 US • RATED T
DETECTIVE COMICS #979
Written by JAMES TYNION IV • Art and cover by ALVARO MARTINEZ and RAUL FERNANDEZ • Variant cover by RAFAEL ALBUQUERQUE
Retailers: This issue will ship with two covers. Please see the order form for details.
"Batmen Eternal" part four! Ulysses Armstrong knows everything there is to know about Tim Drake's future—including every inevitable step he'll take on the road to becoming a dark version of himself! Unfortunately, Ulysses is perfectly happy to take everything from him…and use it to give birth to an unstoppable menace! On sale APRIL 25 • 32 pg, FC, $2.99 US • RATED T
THE FLASH #44
Written by JOSHUA WILLIAMSON • Art and cover by CARMINE DI GIANDOMENICO • Variant cover by DAVID FINCH and DANNY MIKI
Retailers: This issue will ship with two covers. Please see the order form for details.
"PERFECT STORM" part six! Grodd rains lightning down on Central City to burn it to the ground. The Flash is as fast as a bolt of lightning, but is he as fast as a thousand?On sale APRIL 11 • 32 pg, FC, $2.99 US • RATED T
THE FLASH #45
Written by JOSHUA WILLIAMSON •Art by CHRISTIAN DUCE • Cover by BARRY KITSON • Variant cover by DAVID FINCH and DANNY MIKI
Retailers: This issue will ship with two covers. Please see the order form for details.
"PERFECT STORM" epilogue! After Wally's fateful decision, Iris' health begins to deteriorate at an alarming rate. Barry and the Flash family work at lightning speed to try and find a solution, but tensions between Wally and Barry cause Iris' condition to continue to worsen!
On sale APRIL 25 • 32 pg, FC, $2.99 US • RATED T
GREEN ARROW #39
Written by COLLIN KELLY and JACKSON LANZING • Art by MARCIO TAKARA • Cover by TYLER KIRKHAM • Variant cover by MIKE GRELL
Retailers: This issue will ship with two covers. Please see the order form for details. Includes a code for a free digital download of this issue.
"THE CHILDREN OF VAHKAR" part one! Following a hellish year in Seattle, Oliver Queen heads to the war-torn city of Vahkar to use his considerable resources to help its starving citizens. But Oliver soon finds himself in over his head when he discovers that Vakhar is being run by a mysterious new warlord known as NOTHING…and all the town's children have gone missing. Oliver Queen can't save the children of Vakhar…but can Green Arrow?
On sale APRIL 4 • 32 pg, FC, $3.99 US • RATED T+
GREEN LANTERNS #44
Written by TIM SEELEY • Art by RONAN CLIQUET • Cover by WILL CONRAD • Variant cover by BRANDON PETERSON
Retailers: This issue will ship with two covers. Please see the order form for details.
"GHOSTS OF THE PAST" part one! Jessica Cruz's ring has a mind of its own, and it's lashing out at her! Jess needs to find a way to defend herself against a ring that is making constructs against her will!
On sale APRIL 4 • 32 pg, FC, $2.99 US • RATED T
GREEN LANTERNS #45
Written by TIM SEELEY • Art by RONAN CLIQUET • Cover by WILL CONRAD • Variant cover by BRANDON PETERSON
Retailers: This issue will ship with two covers. Please see the order form for "GHOSTS OF THE PAST" part two! Jessica Cruz has been pulled into a nightmare world created from her own memories. As Simon Baz and the Justice League try to find her, they turn to an unlikely ally for help: John Constantine!
On sale APRIL 18 • 32 pg, FC, $2.99 US • RATED T
HAL JORDAN AND THE GREEN LANTERN CORPS #42
Written by ROBERT VENDITTI • Art and cover by RAFA SANDOVAL and JORDI TARRAGONA • Variant cover by TYLER KIRKHAM
Retailers: This issue will ship with two covers. Please see the order form for details.
"DARKEST BEFORE DAWN" part one! Hal Jordan is the paragon of a Green Lantern: Courageous and unrelenting. But even a hero can sometimes doubt the methods they're known to use. And in those moments, something dark creeps in and it can create an evil the universe isn't ready to face!
On sale APRIL 11 • 32 pg, FC, $2.99 US • RATED T
HAL JORDAN AND THE GREEN LANTERN CORPS #43
Written by ROBERT VENDITTI • Art and cover by ETHAN VAN SCIVER • Variant cover by TYLER KIRKHAM
Retailers: This issue will ship with two covers. Please see the order form for details.
"DARKEST BEFORE DAWN" part two! A mysterious object breaks into the Sciencells and abducts former Green Lantern, Tomar-Tu. Hal Jordan flies into action to save his friend, but what he's confronted by may be too much for the greatest Green Lantern!
On sale APRIL 25 • 32 pg, FC, $2.99 US • RATED T
HARLEY QUINN #41
Written by FRANK TIERI • Art by MAURICET • Cover by AMANDA CONNER • Variant cover by FRANK CHO
Retailers: This issue will ship with two covers. Please see the order form for details.
"Angry Bird" finale! Betrayed by one of the last allies she thought she had left from Gotham City's criminal underworld, Harley's in a corner in her battle against the Penguin…and that's the most dangerous place you could possibly put her! Someone's gonna get killed here, and it ain't Harley…
On sale APRIL 4 • 32 pg, FC, $2.99 US • RATED T+
HARLEY QUINN #42
Written by FRANK TIERI • Art by MAURICET • Cover by AMANDA CONNER • Variant cover by FRANK CHO
Retailers: This issue will ship with two covers. Please see the order form for details.
"The Gang's All Here"! Harley's grudgingly accepted the Gang of Harleys back into her life—and now they intend to impress her with all the new tricks they've learned in her absence! Unfortunately, they might've picked up some bad habits too…
On sale APRIL 18 • 32 pg, FC, $2.99 US • RATED T+
THE HELLBLAZER #21
Written by TIM SEELEY
Art by DAVIDE FABBRI
Cover by TIM SEELEY
Variant cover by SEAN PHILLIPS
Retailers: This issue will ship with two covers. Please see the order form for details. Includes a code for a free digital download of this issue.
"THE GOOD OLD DAYS" part three! London is lovely, and John's having a fabulous time. And if you believe that, you'll believe that the Huntress is on his side and the demons aren't coming after his ex-girlfriend. Some people will believe anything.On sale APRIL 25 • 32 pg, FC • $3.99 US • RATED T+
INJUSTICE 2 #23
Written by TOM TAYLOR
Art by BRUNO REDONDO and MIKE S. MILLER
Cover by BRUNO REDONDO and JUAN ALBARRAN
Even with the help of Superboy and the Teen Titans, Batman and his team still face desperate odds against the seemingly invincible Amazo. The Atom also uncovers a terrifying secret about Amazo. Meanwhile, in Gorilla City, Damian, Vixen and Animal Man have to make a risky decision.
On sale APRIL 4 • Each 32 pg, FC • $2.99 US • RATED T+ • DIGITAL FIRST
INJUSTICE 2 #24
Written by TOM TAYLOR
Art by DANIEL SAMPERE
Cover by BRUNO REDONDO and JUAN ALBARRAN
It's all hands on deck for the start of the final battle against Amazo. Former enemies are forced to reunite to stop Professor Ivo's creation and Ra's al Ghul's mad, genocidal plan. Ra's' own team seems to be fracturing at the same time. And a secret weapon is finally unleashed!
On sale APRIL 18 • Each 32 pg, FC • $2.99 US • RATED T+ • DIGITAL FIRST
JUSTICE LEAGUE #42
Written by CHRISTOPHER PRIEST • Art by PETE WOODS • Cover by DAVID YARDIN • Variant cover by J.G. JONES
Retailers: This issue will ship with two covers. Please see the order form for details.
"JUSTICE LOST" part two! Trapped in the chaos of tribal conflict, the Justice League becomes divided over whether to intervene in a civil war in order to protect thousands of fleeing refugees—and a crucial decision could have dire consequences for one of their members! Meanwhile, Batman and Aquaman clash over how to take down the nemesis known only as the Fan, who holds all of their secrets hostage.
On sale APRIL 4 • 32 pg, FC, $2.99 US • RATED T
JUSTICE LEAGUE #43
Written by CHRISTOPHER PRIEST • Art by PETE WOODS • Cover by DAVID YARDIN • Variant cover by J.G. JONES
Retailers: This issue will ship with two covers. Please see the order form for details.
"JUSTICE LOST" finale! Struggling to save one of their own and extricate themselves from the grip of war, the Justice League's hand is forced by the mercenary Deathstroke! Decisions must be made about Red Lion's brutality, the insidious tactics of the Fan and the League's role as the World's Greatest Heroes. When the dust settles, will the old alliances still stand?
On sale APRIL 18 • 32 pg, FC, $2.99 US • RATED T
JUSTICE LEAGUE OF AMERICA #28
Written by STEVE ORLANDO • Art by HUGO PETRUS • Cover by DAVID WILLIAMS • Variant cover by FRANCESCO MATTINA
Retailers: This issue will ship with two covers. Please see the order form for details.
"DAWN OF TIME" part two! Chronos starts traveling through time with the Justice League in hot pursuit. At the same time, he's taunting Ryan Choi, getting in his head and trying to convince him he's never going to be the real Atom. Will Ryan be able to overcome Chronos's attack and help his team or will time itself forever belong to Chronos?
On sale APRIL 11 • 32 pg, FC, $2.99 US • RATED T
JUSTICE LEAGUE OF AMERICA #29
Written by STEVE ORLANDO • Art by HUGO PETRUS • Cover by DAVID WILLIAMS • Variant cover by FRANCESCO MATTINA
Retailers: This issue will ship with two covers. Please see the order form for details.
"DAWN OF TIME" finale! Chronos has won. Super heroes are non existent in the new timeline he's manipulated into existence. The League will have to find each other, reform and fix the time stream or all of time will be at Chronos's command.
#28 on sale APRIL 11 • #29 on sale APRIL 25 • Each 32 pg, FC, $2.99 US • RATED T
MISTER MIRACLE #8
Written by TOM KING • Art by MITCH GERADS • Cover by NICK DERINGTON • Variant cover by MITCH GERADS
Retailers: This issue will ship with two covers. Please see the order form for details.
This issue, it's back to Apokolips—and a return to war. Scott Free is engaged in a bloody battle against Darkseid's forces, this time without Barda by his side—because her hands are full, thanks to a domestic situation at home. With his attention split by his concerns for his wife's commitments back on Earth, can Mister Miracle hold his own against the minions of darkness?
On sale APRIL 11 • 32 pg, 8 of 12, FC, $3.99 US • MATURE READERS
NEW SUPER-MAN AND THE JUSTICE LEAGUE OF CHINA #22
Written by GENE LUEN YANG • Art by BRENT PEEPLES and MATT SANTORELLI • Cover by PHILIP TAN • Variant cover by BERNARD CHANG
Retailers: This issue will ship with two covers. Please see the order form for details. Includes a code for a free digital download of this issue.
"SEAS OF CHANGE" part three! The saga of the Aqua-Man of North Korea crashes to a close! As the Justice League of China heads off an international incident on their shores, our heroes discover that sometimes villainy is only a matter of perspective—and reasoning with North Korea's most menacing metahuman and his marine militia may be the only hope both countries have of survival!
On sale APRIL 11 • 32 pg, FC, $3.99 US • RATED T
NIGHTWING #42
Written by COLLIN KELLY and JACKSON LANZING • Art by JORGE CORONA • Cover by JORGE JIMENEZ • Variant cover by YASMINE PUTRI
Retailers: This issue will ship with two covers. Please see the order form for details.
"THE CRIMSON KABUKI"! When Damian Wayne disappears during a solo mission to Tokyo, Nightwing must enter the seedy underworld to save the boy who was once his Robin. But Dick will have to ascend the Crimson Kabuki's tower of crime and survive a game of death against three of Japan's most powerful fighters. Can Nightwing defeat an entire building of elite fighters, or will he lose Damian forever?
On sale APRIL 4 • 32 pg, FC, $2.99 US • RATED T
NIGHTWING #43
Written by MICHAEL MORECI • Art by MINKYU JUNG • Cover by JORGE JIMENEZ • Variant cover by YASMINE PUTRI
Retailers: This issue will ship with two covers. Please see the order form for details.
"THE BRAVE, THE OBNOXIOUS AND THE INEPT"! All Dick Grayson wants is a night to himself. But when Robin and Arsenal come calling in need of his help, Dick has to throw on his Nightwing costume and get to work. Before he knows it, he's neck-deep in League of Assassin ninjas and trying to stop Arsenal's sometime-girlfriend from killing them all—assuming Robin and Arsenal don't kill each other first!
On sale APRIL 18 • 32 pg, FC, $2.99 US • RATED T
RAVEN: DAUGHTER OF DARKNESS #4
Written by MARV WOLFMAN
Art by POP MHAN
Cover by YANICK PAQUETTE
The super-powered experimental progeny of 2MorrowTek have awakened and broken free of their corporate masters—and their next target is Raven! And she must die, or Trigon's forces will capture her to learn how to enable Trigon to have another…daughter of darkness!
On sale APRIL 25 • 32 pg, 4 of 12, FC • $3.99 US • RATED T
RED HOOD AND THE OUTLAWS #21
Written by SCOTT LOBDELL
Art by DEXTER SOY
Cover by TREVOR HAIRSINE
Variant cover by GUILLEM MARCH
Retailers: This issue will ship with two covers. Please see the order form for details. Includes a code for a free digital download of this issue.
Looking to make his mark on Gotham City's crowded underworld, Red Hood infiltrates the Iceberg Lounge in an attempt to further annoy the Penguin. But it might be the Penguin who gets the drop on Red Hood this time. Plus, the truth about Bizarro's condition finally comes out—and the consequences could be catastrophic for Artemis!
On sale APRIL 11 • 32 pg, FC $3.99 US • RATED T
SUICIDE SQUAD #39
Written by ROB WILLIAMS • Art by EDUARDO PANSICA and JULIO FERREIRA • Cover by ANDY KUBERT • Variant cover by ANDREA SORRENTINO
Retailers: This issue will ship with two covers. Please see the order form for details.
"BREAK THROUGH THE WALL" part two! The government loses control of its new military weapon, the Wall, and he's rampaging through Washington, D.C. with his sights set on the Capitol building! Rick Flag is forced to turn back to the Suicide Squad to stop the Wall before Washington is in ruins!
On sale APRIL 11 • 32 pg, FC, $2.99 US • RATED T+
SUICIDE SQUAD #40
Written by ROB WILLIAMS • Art by EDUARDO PANSICA and JULIO FERREIRA • Cover by DAVID YARDIN • Variant cover by ANDREA SORRENTINO
Retailers: This issue will ship with two covers. Please see the order form for details.
"BREAK THROUGH THE WALL" finale! The Squad faces down the Wall as their fate hangs in the balance. If the Squad doesn't stop the Wall, the U.S. government will be demolished!
On sale APRIL 25 • 32 pg, FC, $2.99 US • RATED T+
SUPERMAN #44
Written by PATRICK GLEASON and PETER J. TOMASI • Art and cover by PATRICK GLEASON • Variant cover by JONBOY MEYERS
Retailers: This issue will ship with two covers. Please see the order form for details.
"BOYZARRO RE-DEATH" part three! Gathered together from the cosmic recesses of the universe are the most powerful forces of bad ever assembled! Now the Super Foes face the Legion of Fun—and the only heroes who dare to stand against this intergalactic threat of the Bizarroverse are Superman and son!
On sale APRIL 4 • 32 pg, FC, $2.99 US • RATED T
SUPERMAN #45
Written by PATRICK GLEASON and PETER J. TOMASI • Art and cover by PATRICK GLEASON • Variant cover by JONBOY MEYERS
Retailers: This issue will ship with two covers. Please see the order form for details.
"BOYZARRO RE-DEATH" finale! The challenge of the Bizarroverse continues as the Super Foes battle the Legion of Fun! As Superman and Son return to Hamilton for a quick recharge, they learn what the little town truly meant to them—and what they meant to the locals of the town.
On sale APRIL 18 • 32 pg, FC, $2.99 US • RATED T
SUPERGIRL #20
Written by STEVE ORLANDO and JODY HOUSER
Art and cover by ROBSON ROCHA
Variant cover by STANLEY "ARTGERM" LAU
Retailers: This issue will ship with two covers. Please see the order form for details. Includes a code for a free digital download of this issue.
Supergirl must fight both Mokkari and the out-of-dimension Viking Judge to save Director Bones from the fury of the Viking's magical ax! Meanwhile, with Director Bones out of the picture, Cameron Chase and Lar-On must break into the D.E.O. to save Veritas before the clock counts down to zero and the psycho-redactor erases her memories forever! On sale APRIL 11 • 32 pg, FC • $3.99 US • RATED T7
SUPER SONS #15
Written by PETER J. TOMASI
Art by CARLO BARBERI and ART THIBERT
Cover by JORGE JIMENEZ
Variant cover by DUSTIN NGUYEN
Retailers: This issue will ship with two covers. Please see the order form for details. Includes a code for a free digital download of this issue.
"end of innocence" part one! Robin and Superboy have been to hell and back again, but this time their friendship must stand the ultimate test: the Amazo Project! Kid Amazo returns as the pieces of this deadly plan fall into place and reveal a secret that might tear apart Damian and Jon's growing friendship.
On sale APRIL 18 • 32 pg, FC • $3.99 US • RATED T
TEEN TITANS #19
Written by BENJAMIN PERCY • Art by SCOT EATON and WAYNE FAUCHER • Cover by DAN MORA • Variant cover by BRYAN HITCH
Retailers: This issue will ship with two covers. Please see the order form for details. Includes a code for a free digital download of this issue.
"The Following" part three! Beast Boy has gone rogue, turned by the nefarious Puppeteer into an unstoppable killing machine, along with hundreds of innocent teenagers! Can the Teen Titans stop their former friend's deadly rampage and put an end to the Puppeteer's reign once and for all?
On sale APRIL 25 • 32 pg, FC, $3.99 US • RATED T
TRINITY #21
Written by JAMES ROBINSON • Art by PATCH ZIRCHER • Cover by GUILLEM MARCH • Variant cover by BILL SIENKIEWICZ
Retailers: This issue will ship with two covers. Please see the order form for details.
"MAN DOWN" part two! Deimos and his armies have besieged the Trinity—so why is Steve Trevor helping the enemy?! Wonder Woman, Batman and Superman fight their way through one monstrous magical menace after another as Dark Strike's stolen Skartaran weaponry is unleashed!
On sale APRIL 11 • 32 pg, FC, $3.99 US • RATED T
TRINITY #22
Written by JAMES ROBINSON • Art by PATCH ZIRCHER • Cover by GUILLEM MARCH • Variant cover by BILL SIENKIEWICZ
Retailers: This issue will ship with two covers. Please see the order form for details.
"MAN DOWN" finale! The Trinity and Warlord have discovered Deimos' plan to use the Skartaran Time Weapon to reduce his enemies to dust—but time itself is not on our heroes' side! It's up to Superman, Wonder Woman and Batman to save Steve Trevor, defeat Deimos and seal the breach with Skartaris before the entire world is consumed by magic powerful enough to melt millennia! On sale APRIL 25 • 32 pg, FC, $3.99 US • RATED T • FINAL ISSUE
TITANS #22
Written by DAN ABNETT • Art and cover by PAUL PELLETIER and ANDREW HENNESSY • Variant cover by NICK BRADSHAW
Retailers: This issue will ship with two covers. Please see the order form for details. Includes a code for a free digital download of this issue.
"Titans Apart" part three! As Arsenal follows the trail of a conspiracy that no one else can see, he finds himself at the mercy of Cheshire, who's both a deadly assassin and his ex! Only Donna Troy takes Roy at his word, but she's trapped in the Watchtower…and must escape to save the man she loves!
On sale APRIL 11 • 32 pg, FC, $3.99 US • RATED T
TITANS ANNUAL #2
Written by DAN ABNETT • Art by TOM GRUMMETT • Cover by PAUL PELLETIER and ANDREW HENNESSY
"Titans Apart" finale! Arsenal and Donna discover the truth about the Bliss conspiracy…only they're too late! With the Justice League off the board and the Titans divided, who will stand against the evil Brain as he attempts to create his new world order—and kill everyone on Earth in the process?
On sale APRIL 25 • 48 pg, FC, $4.99 US • RATED T
WONDER WOMAN #44
Written by JAMES ROBINSON • Art by EMANUELA LUPACCHINO • Cover by CARLO PAGULAYAN • Variant cover by JENNY FRISON
Retailers: This issue will ship with two covers. Please see the order form for details.
"AMAZONS ATTACKED" part four! When last they met, Wonder Woman was robbed of a chance to meet Darkseid in single combat—and she's certain she'd be able to take him down. At last, she's going to get her wish—but with Darkseid at full power, is she still sure she'll survive?
On sale APRIL 11 • 32 pg, FC, $2.99 US • RATED T
WONDER WOMAN #45
Written by JAMES ROBINSON • Art by EMANUELA LUPACCHINO • Cover by CARLO PAGULAYAN • Variant cover by JENNY FRISON
Retailers: This issue will ship with two covers. Please see the order form for details.
"AMAZONS ATTACKED" finale! It's all-out war for Themyscira! Jason's been handed a gift from the gods that could turn the tide…but how will he use it? And is this gift actually what he believes it to be?
On sale APRIL 25 • 32 pg, FC, $2.99 US • RATED T
CAVE CARSON HAS AN INTERSTELLAR EYE #2
Written by JON RIVERA • Art and cover by MICHAEL AVON OEMING
When you've got a cybernetic eye infected with madness, anything can happen! But even an eye of infinite capabilities needs to recharge once in a while. Finding a seemingly safe planet (at least in terms of atmospheric makeup), Team Carson takes a brief detour in their space odyssey, only to find themselves recruited into a neverending PoliSciFi battle in "Destiny of the Lazer Monks" part one.
On sale APRIL 18 • 32 pg, FC, $3.99 US • MATURE READERS
ETERNITY GIRL #2
Written by MAGDALENE VISAGGIO
Art and cover by SONNY LIEW
Far beyond the farthest any mortal has ever traveled is a nameless world nested in the very heart of existence. On that planet is a structure that extends infinitely into the heavens. It is the Shining Tower, the axis of life and death. And to end her suffering, Eternity Girl must destroy it. The catch? Everyone else will die, too.
On sale APRIL 11 • 32 pg, 2 of 6, FC $3.99 US • MATURE READERS
DOOM PATROL VOL. 2: NADA TP
Written by GERARD WAY
Art by NICK DERINGTON, MICHAEL ALLRED and TOM FOWLER
Cover by NICK DERINGTON
Flex Mentallo, Robotman, Rebis, Crazy Jane and more are back to twist minds and take control. The most prevailing question in Vol. 2? What is S**t, and why is everyone eating it? Cliff doesn't like it, but Casey can't get enough. Sure, Cliff doesn't like a lot of stuff, but that doesn't mean he's wrong to be suspicious this time around. Meanwhile, we find out where Lotion the cat got off to, and how his journey has changed him. Life on the streets has made him an entirely different animal! Collects issues #7-11.
On sale MAY 9 • 128 pg, FC • $14.99 US • MATURE READERS
MOTHER PANIC: GOTHAM A.D. #2
Written by JODY HOUSER
Art by IBRAHIM MOUSTAFA
Cover by TOMMY LEE EDWARDS
To rescue the person most important to her, Mother Panic needs to break into one of the most secure buildings in Collective-controlled Gotham City—Arkham Asylum. Will Catwoman, Gotham's greatest thief, be willing to help her in her mission? And what has Poison Ivy done to Robinson Park to turn it into a soldier-eating nightmare?
On sale APRIL 25 • 32 pg, FC • $3.99 US • MATURE READERS
SHADE, THE CHANGING WOMAN #2
Written by CECIL CASTELLUCCI
Art by MARLEY ZARCONE
Backup feature art by JAMIE COE
Cover by BECKY CLOONAN
Shade has a new body that's all her own, but does that mean she also requires a new life, one of her making, as well? River, Teacup and the rest of the Valley Ville crew have moved on, and so must she. But creating a life from scratch isn't as easy as getting a new body, especially when all you have is the memory of what you had. On sale APRIL 4 • 32 pg, FC • $3.99 US • MATURE READERS
THE WILD STORM #13
Written by WARREN ELLIS • Art and cover by JON DAVIS-HUNT • Variant cover by FRANCESCO FRANCAVILLA
John Lynch, once the director of IO, the secret deep-state agency that runs Earth, is on the road. His darkest project, Thunderbook, has been uncovered, and he needs to warn the principals, now scattered across America. Hiding. Because they were his most successful experiments. And none of them are completely human anymore.
On sale APRIL 18 • 32 pg, FC, • $3.99 US • RATED T+
EXIT STAGE LEFT: THE SNAGGLEPUSS CHRONICLES #4
Written by MARK RUSSELL
Art by MIKE FEEHAN and MARK MORALES
Cover by BEN CALDWELL
Variant cover by MARGUERITE SAUVAGE
Retailers: This issue will ship with two covers. Please see the order form for details.
As trouble brews at home and the government builds its case against him, disaster looms for Snagglepuss, while Huckleberry Hound falls in love. But both life and love take unexpected turns, and we are all helpless in their wake.
On sale APRIL 4 • 32 pg, 4 of 6, FC • $3.99 US • RATED T+
FUTURE QUEST PRESENTS #9
Written by ROB WILLIAMS
Art and cover by AARON LOPRESTI
Variant cover by KAARE ANDREWS
Retailers: This issue will ship with two covers. Please see the order form for details.
Be careful what you wish for! Young Dorno of the Herculoids clan wants to make his own way in the world, free of Zandor and Tara, his parents. But when that world is the planet Amzot, and a strange sentient being named Animan wants it for his own, Dorno may grow up too fast!
On sale APRIL 18 • 32 pg, FC • $3.99 US • RATED T
THE JETSONS #6
Written by JIMMY PALMIOTTI
Art by PIER BRITO
Cover by AMANDA CONNER
Variant cover by RYAN SOOK
Retailers: This issue will ship with two covers. Please see the order form for details.
It's the end of the world! Or is it something more that no one could foresee? George Jetson makes the ultimate sacrifice for his family and for the planet Earth. Jane and the kids see something they never expected to see happening before their eyes! On sale APRIL 4 • 32 pg, 6 of 6, FC • $3.99 US RATED T
SCOOBY APOCALYPSE #24
Written by KEITH GIFFEN and J.M. DeMATTEIS
Art by RON WAGNER, ANDY OWENS and others
Cover by JILL THOMPSON • Variant cover by TREVOR HAIRSINE
Retailers: This issue will ship with two covers. Please see the order form for details.
It's the moment we've all been waiting for: Fred and Daphne are finally together! But in a world full of murder, monsters and misery—how long can true love last?
On sale APRIL 11 • 32 pg, FC • $3.99 US • RATED T
SCOOBY-DOO TEAM-UP #37
Written by SHOLLY FISCH
Art and cover by DARIO BRIZUELA
Supergirl may be as invulnerable as her cousin, but even bulletproof skin can't help her when she's haunted by the ghosts of Krypton! Is it a hoax? A message from the Phantom Zone? It's up to Scooby and the gang to find out…assuming that Scooby and Streaky the Super-Cat can set aside their cat-and-dog rivalry!
On sale APRIL 25 • 32 pg, FC, $2.99 US • RATED E • DIGITAL FIRST
SCOOBY-DOO, WHERE ARE YOU? #92
Written by IVAN COHEN
Art and cover by WALTER CARZON and HORACIO OTTOLINI
It's the annual Mystery-Con International—a convention honoring sleuths from all over the world—and this year, Mystery, Inc. are the guests of honor! But when the booth of some of their biggest fans is ROBBED of some valuable merchandise, our heroes have to go undercover as Mystery, Inc. cosplayers to find out whodunnit!
On sale APRIL 11 • 32 pg, FC, $2.99 US • RATED E
TEEN TITANS GO! #27
Written by MATTHEW K. MANNING and IVAN COHEN
Art by ERICH OWEN and JEREMY LAWSON • Cover by MARCELO DiCHIARA
The team makes an "Appointment with Doom" when they each try to see a doctor. Beast Boy is convinced that evil Insure Ants will attack—and he might be right! And when Robin forces the team to do some "Spring Cleaning," they discover sentient, angry dust bunnies—and things go downhill from there. Is the team toast?
On sale APRIL 18 • 32 pg, FC, $2.99 US • RATED E • DIGITAL FIRST
MAD MAGAZINE #551
Written and illustrated by THE USUAL GANG OF IDIOTS
In our first issue since #550, we serve up a fresh helping of funny for spring! Don't miss it!
On sale MARCH 28 • 56 pg, FC, $5.99 US
BATMAN: DETECTIVE COMICS: REBIRTH DELUXE EDITION BOOK 2 HC
Written by JAMES TYNION IV and CHRISTOPHER SEBELA
Art by MARCIO TAKARA, ALVARO MARTINEZ, CHRISTIAN DUCE, FERNANDO BLANCO, CARMEN CARNERO and others • Cover by RAFAEL ALBUQUERQUE
With Azrael and Batwing now on Batman's team, will the Dark Knight's squadron of crime-fighters be able to discover the League of Shadows' plan? And what deadly personal secret will be unleashed on the team? Then, the Order of St. Dumas has unleashed a bizarre new evil on the world, and it's convinced it must destroy Jean-Paul Valley! Collects BATMAN: DETECTIVE COMICS issues #950-962.
On sale MAY 9 • 328 pg, FC, 7.0625" x 10.875" • $34.99 US
BATMAN AND THE SIGNAL TP
Written by SCOTT SNYDER and TONY PATRICK
Art by CULLY HAMNER, DECLAN SHALVEY, MINKYU JUNG and KLAUS JANSON
Cover by CULLY HAMNER
Duke Thomas, a.k.a. the Signal, is back! After months of training, the Signal is ready to step out of the shadow of the Bat to become a hero for Gotham City's daylight hours. But can he handle the challenge of Gnomon and his minions? And what key does Gnomon hold to Duke's past? Find out in these stories from the three-issue miniseries, plus backup stories from ALL-STAR BATMAN #1-4 and 6-9.
On sale MAY 23 • 160 pg, FC • $16.99 US
BATWOMAN VOL. 2: WONDERLAND TP
Written by MARGUERITE BENNETT
Art by FERNANDO BLANCO, MARC LAMING and SCOTT GODLEWSKI
Cover by MICHAEL CHO
When Colonel Jacob Kane realized his daughter Kate would never become the soldier he wanted, he chose someone else to lead the secret paramilitary group known as the Colony. That man—Colony Prime—hates nobody on Earth the way he hates Kate…and the feeling is mutual! When the two of them are stranded in the Sahara Desert, heavily dosed with Scarecrow's fear toxin, with no way to survive except to rely on each other…they might just choose death instead! Collects issues #7-12.
On sale MAY 30 • 144 pg, FC • $16.99 US
CYBORG VOL. 3: SINGULARITY TP
Written by JOHN SEMPER JR. and KEVIN GREVIOUX
Art by WILL CONRAD, CLIFF RICHARDS and ALLAN JEFFERSON
Cover by ERIC CANETE
Anomaly's horrific dream is realized when the O.T.A.C. virus changes nearly all flesh and blood on Earth into cold, hard steel. Now humanity's last hope, Cyborg, Beast Boy and a band of rebels led by Vic's mother, Elinore Stone, embark on a suicide mission to find the cure. Their first obstacle? The infected super-scientist Doc Magnus and his newly twisted robot army, the Metal Men! Collects CYBORG #14-20.
On sale MAY 9 • 168 pg, FC • $16.99 US
GREEN ARROW VOL. 5: HARD-TRAVELING HERO TP
Written by BENJAMIN PERCY
Art by OTTO SCHMIDT, JUAN FERREYRA and JAMAL CAMPBELL
Cover by OTTO SCHMIDT
Unwilling to let another city suffer the same fate as Seattle, Green Arrow kicks off a quest to hunt down the Ninth Circle across America! To stop disaster before it can happen, the hot-headed Oliver Queen must mend fences with those he's alienated, including the Flash, Wonder Woman, Superman, Batman and Green Lantern! But can even the Justice League help the Emerald Archer take down his deadliest foes? Collects GREEN ARROW #26-31.
On sale MAY 2 • 144 pg, FC • $16.99 US
HARLEY QUINN VOL. 5: VOTE HARLEY TP
Written by AMANDA CONNER and JIMMY PALMIOTTI
Art by JOHN TIMMS, MIRKA ANDOLFO, MICHAEL WM. KALUTA and BRET BLEVINS
Cover by AMANDA CONNER
The corrupt mayor of New York City has been a thorn in Harley's side since the day he stepped into office…and now he's crossed the line one time too many! Harley's usual methods of dealing with problems like this have failed her, so it's time for a more unconventional solution…is New York City ready for Mayor Harley Quinn? It better be! Don't miss these stories from HARLEY QUINN #28-34.
On sale MAY 2 • 168 pg, FC • $16.99 US
NIGHTWING: REBIRTH DELUXE EDITION BOOK 2 HC
Written by TIM SEELEY and MICHAEL McMILLIAN
Art by JAVIER FERNANDEZ, MINKYU JUNG, CHRISTIAN DUCE, VICENTE CIFUENTES and MIGUEL MENDONÇA • Cover by IVAN REIS
Nightwing and Robin travel the globe to track down Shawn Tsang, Nightwing's kidnapped girlfriend, facing old foes like Professor Pyg, Deathwing and the man who wants to destroy the legacy of Batman and Robin: Dr. Simon Hurt! Then, Blockbuster shows up in Blüdhaven looking to exploit the city's crime syndicates for protection. But this rogue's intellect is his real weapon! Collects NIGHTWING #16-28.
On sale MAY 16 • 312 pg, 7.0625" x 10.875", FC • $34.99 US
SUICIDE SQUAD: REBIRTH DELUXE EDITION BOOK 2 HC
Written by ROB WILLIAMS, SI SPURRIER and JOHN OSTRANDER • Art by JOHN ROMITA JR., TONY S. DANIEL, RILEY ROSSMO and others • Cover by TONY S. DANIEL
Spinning out of JUSTICE LEAGUE VS. SUICIDE SQUAD! Rustam, Amanda Waller's long-long protégé, returns to burn down the world Waller has sworn to protect. Plus, Waller wants
something only Lex Luthor has. Striking a deal won't be easy—or cheap! Collects SUICIDE SQUAD #9-20 and the WAR CRIMES special!
On sale MAY 2 • 328 pg, 7.0625" x 10.875", FC • $34.99 US
SUPERMAN REBORN TP
Written by PETER J. TOMASI, PATRICK GLEASON and DAN JURGENS
Art by PATCH ZIRCHER, ART THIBERT, STEPHEN SEGOVIA, DOUG MAHNKE, PATRICK GLEASON, MICK GRAY and JAIME MENDOZA
Cover by PATRICK GLEASON
When Jon Kent is kidnapped and Clark and Lois start to lose their memories of him, Superman must find out who's behind their memory loss! Writers Dan Jurgens, Peter J. Tomasi and Patrick Gleason present the first monumental Superman crossover event following DC Rebirth, which reintroduces Mr. Mxyzptlk! Collects ACTION COMICS #973-976 and SUPERMAN #18-19.
On sale MAY 16 • 168 pg, FC, $16.99 US
SUPERMAN: REBIRTH DELUXE EDITION BOOK 2 HC
Written by PETER J. TOMASI and PATRICK GLEASON
Art by PATRICK GLEASON, DOUG MAHNKE, IVAN REIS, RYAN SOOK, CLAY MANN, ED BENES, JORGE JIMENEZ, TONY S. DANIEL and others
Cover by PATRICK GLEASON
All around the Multiverse, Supermen are going missing! Joining forces, the collective of Men of Steel must find a way to escape and defeat their captor. Then, something is foul in Hamilton, and Batman and Robin are here to investigate! Plus, Superman meets Swamp Thing! Collects SUPERMAN #14-26 and ANNUAL #1.
On sale MAY 23 • 360 pg, 7.0625" x 10.875", FC $34.99 US
SUPERWOMAN VOL. 3: THE MIDNIGHT HOUR TP
Written by K. PERKINS • Art by STEPHEN SEGOVIA, ART THIBERT and SAMI BASRI • Cover by PHIL JIMENEZ and ART THIBERT
Searching for an explanation of the source of her powers, Lana traces her steps back to high school with a teenage Clark Kent in Smallville. With Lana's role as Superwoman hanging in the balance, Lex Luthor makes an unexpected appearance. Collects SUPERWOMAN #13-18.
On sale MAY 23 • 144 pg, FC, $16.99 US
WONDER WOMAN VOL. 5: HEART OF THE AMAZON TP
Written by SHEA FONTANA, TIM SEELEY, VITA AYALA, MICHAEL MORECI, COLLIN KELLY and JACKSON LANZING
Art by DAVID MESSINA, CHRISTIAN DUCE, CLAIRE ROE, MIRKA ANDOLFO, STEPHANIE HANS and DAVID LAFUENTE
Cover by JENNY FRISON
In this new collection, Wonder Woman takes a moment to catch her breath and attend a friend's wedding…but unfortunately, horror follows her even there, putting the life of her friend Etta Candy in danger! Then, learn more about the tumultuous partnership between Wonder Woman and Steve Trevor. Collects stories from WONDER WOMAN #26-30, WONDER WOMAN ANNUAL #1 and WONDER WOMAN: STEVE TREVOR #1.
On sale MAY 9 • 176 pg, FC, $16.99 US
ABSOLUTE KINGDOM COME HC NEW EDITION
Written by MARK WAID
Art and cover by ALEX ROSS
Winner of five Eisner and Harvey Awards, KINGDOM COME is the best-selling graphic novel from acclaimed writer Mark Waid and superstar painter Alex Ross, now back in print as an Absolute Edition!
In the not-so-distant future, the DC Universe is spinning inexorably out of control. The new generation of heroes has lost their moral compass, becoming as reckless and violent as the villains they fight. The previous regime of heroes—the Justice League—returns under the most dire of circumstances, which sets up a battle of the old guard against these
uncompromising protectors in a conflict that will define what heroism truly is. Collects KINGDOM COME #1-4.
On sale OCTOBER 10 • 340 pg, 8.25" x 12.5", FC • $99.99 US
BATMAN BY GRANT MORRISON OMNIBUS VOL. 1 HC
Written by GRANT MORRISON
Art by ANDY KUBERT, JOHN VAN FLEET, TONY S. DANIEL, J.H. WILLIAMS III, RYAN BENJAMIN, LEE GARBETT and others
Cover by J.H. WILLIAMS III
This new Omnibus collection kicks off with the introduction of Damian Wayne! Then, Batman and a group of global heroes face a killer on a mysterious island, and Batman relives an adventure in the life of young Bruce Wayne: the hunt for his parents' killer. And when Bruce Wayne disappears, the Club of Villains begins a crime spree through the streets of Gotham City, while Batman's allies attempt to keep order. Collects BATMAN #655-658 and #663-683, stories from 52 #30 and 47 and DC UNIVERSE #0. This title also includes two new story pages written and drawn by Chris Burnham that recap events from "The Resurrection of Ra's al Ghul."
On sale JULY 4 • 672 pg, FC • $75.00 US
BATMAN BY SCOTT SNYDER AND GREG CAPULLO BOX SET 3
Written by SCOTT SNYDER and JAMES TYNION IV
Art by GREG CAPULLO, DANNY MIKI, JOCK, YANICK PAQUETTE, RILEY ROSSMO, SEAN MURPHY, MIKEL JANIN and others
The final four volumes of stories from the team of writer Scott Snyder and artist Greg Capullo are collected in a new box set that includes Batman Vol. 7: Endgame, Batman Vol. 8: SuperHeavy, Batman Vol. 9: Bloom and Batman Vol. 10: Epilogue! In these stories, The Joker returns with a deadly new agenda. Then, a new Batman roams the streets of Gotham City in an eight-foot tall mechanical crimefighting suit while Bruce Wayne attempts to regain his memory, and the city faces the bizarre threat of Mr. Bloom!
On sale SEPTEMBER 5 • FC, $59.99 US
FUTURE QUEST PRESENTS VOL. 1 TP
Written by JEFF PARKER
Art by ARIEL OLIVETTI, STEVE RUDE, RON RANDALL and others
Cover by ARIEL OLIVETTI
Retailers: This title is resolicited. All previous orders are cancelled.
After the thrilling events of FUTURE QUEST, a new adventure begins! Space Ghost and his young wards Jan and Jace team up with the Herculoids to rebuild the mighty Space Force. Will they rise again to become defenders of the galaxy? Or is there something lurking in the shadows ready to stop them for good? Collects issues #1-3 and #5-7, costarring Birdman!
RESOLICIT • On sale MAY 2 • 160 pg, FC, $16.99 US • ISBN: 978-1-4012-7830-4
BATMAN '66 OMNIBUS HC
Written by JEFF PARKER, TOM PEYER, ART BALTAZAR, FRANCO, LEN WEIN, HARLAN ELLISON, MIKE W. BARR, RAY FAWKES and others
Art by JONATHAN CASE, TY TEMPLETON, RUBEN PROCOPIO, CHRIS SPROUSE, CHRISTOPHER JONES, MICHAEL AVON OEMING, DARIO BRIZUELA and others
Cover by MICHAEL ALLRED
Put on your go-go boots and get ready to "Batusi" as DC reimagines the classic Batman TV show! In these tales, the Dynamic Duo takes on the Riddler, Mr. Freeze, the Penguin, the Mad Hatter, The Joker and more of the world's most colorful Bat-villains! And in BATMAN '66: THE LOST EPISODE #1, an outline from the original TV series featuring Two-Face is adapted to comics for the first time! This new Omnibus collects BATMAN '66 #1-30, BATMAN '66: THE LOST
EPISODE #1 and a story from SOLO #7.
On sale AUGUST 8 • 928 pg, FC • $125.00 US
BATMAN IN THE BRAVE AND THE BOLD: THE BRONZE AGE OMNIBUS VOL. 2 HC
Written by BOB HANEY and CARY BURKETT
Art by JIM APARO, JOHN CALNAN, JOE STATON, DON NEWTON and others
Cover by KARL KERSCHL
In these team-up tales from THE BRAVE AND THE BOLD #110-156, the Dark Knight Detective teams up with the greatest heroes of the 1970s, including Mister Miracle, Swamp Thing, Kamandi, the Flash, Green Arrow, Deadman, the Demon, the Creeper and—The Joker?!
On sale AUGUST 29 • 896 pg, FC, $99.99 US
BATMAN: GHOSTS TP
Written by SAM KIETH • Art and cover by SAM KIETH
When a supernatural creature begins to kill in Gotham City, Batman tries to fight something that he can't even touch. Further complications arise when the monster says he knows about Bruce Wayne's parents' deaths! But when Batman discovers a link to a blind woman, can he defeat this bizarre threat? Collects BATMAN CONFIDENTIAL #40-43 and BATMAN/LOBO: DEADLY SERIOUS #1-2.
On sale MAY 16 • 200 pg, FC, $19.99 US
DASTARDLY AND MUTTLEY TP
Written by GARTH ENNIS
Art and cover by MAURICET
The world has ended, but the race has just begun for Dick Dastardly and Muttley! Now cast as a pair of fighter pilots, these two must face their greatest challenges yet. Mutt has undergone a shocking transformation—and unstabilium is to blame! Can he and Dick find a cure back home in the United States? Or will Air Force General Harrier personally make sure the guys are grounded for good? Collects DASTARDLY & MUTTLEY #1-6.
On sale MAY 9 • 160 pg, FC, $16.99 US
DEATHSTROKE, THE TERMINATOR VOL. 4: CRASH OR BURN TP
Written by MARV WOLFMAN, STEVEN GRANT and LEN WEIN
Art by STEVE ERWIN, WILL BLYBERG, GABRIEL MORRISSETTE and others
Cover by MIKE ZECK
Deathstroke returns in these 1990s tales to battle the Vigilante, Fire and Blood, and Janissary! Then, Slade Wilson must enter the Black Dome—and he might not make it out alive. Collects DEATHSTROKE, THE TERMINATOR #21-25, plus DEATHSTROKE, THE TERMINATOR ANNUAL #2, featuring the origin of Gunfire!
On sale MAY 9 • 200 pg, FC, $24.99 US
GREEN LANTERN: KYLE RAYNER VOL. 2 TP
Written by RON MARZ, MARV WOLFMAN, TOM JOYNER and MICHAEL JAN FRIEDMAN
Art by DARRYL BANKS, MARK BRIGHT, WILL ROSADO, MIKE COLLINS and others
Cover by DARRYL BANKS and ROMEO TANGHAL
Hal Jordan has returned. Refusing to accept responsibly for his actions, Hal looks to reclaim his mantle as Green Lantern from Kyle Rayner! With his sights set on Kyle's power ring, Hal will take it back by any means necessary. Collects GREEN LANTERN #58-65, NEW TITANS #124-125, DARKSTARS #34, GUY GARDNER: WARRIOR #27-28 and DAMAGE #16. On sale MAY 2 • 360 pg, FC, $29.99 US
INJUSTICE: GROUND ZERO VOL. 2 TP
Written by CHRISTOPHER SEBELA
Art by POP MHAN, TOM DERENICK, MARCO SANTUCCI, DANIEL SAMPERE and others
Cover by MIKE S. MILLER
In these stories from issues #7-12, Harley and The Joker are back together, but is Harley Quinn a pawn in an evil plot, or is she setting an elaborate trap? And as the world moves ever closer to mass destruction, heroes fall and villains rise in INJUSTICE: GROUND ZERO VOL. 2, setting the stage for the new game Injustice 2!
On sale MAY 30 • 144 pg, FC, $16.99 US
JLA YEAR ONE TP NEW EDITION
Written by MARK WAID and BRIAN AUGUSTYN
Art by BARRY KITSON, MICHAEL BAIR, JOHN STOKES and MARK PROPST
Cover by BARRY KITSON
The definitive tale of the JLA's formation is back in a new deluxe hardcover of the epic tale starring the Flash, Green Lantern, Black Canary, Martian Manhunter and Aquaman! Learn how the five founding members of the JLA pulled together as a team, earning the respect of the public and defeating foes like Vandal Savage, scientist T.O. Morrow and the Brotherhood of Evil! Collects JLA: YEAR ONE #1-12, with sketches and other bonus material!
On sale MAY 23 • 336 pg, FC, $29.99 US
LEGIONNAIRES BOOK TWO TP
Written by TOM McCRAW, TOM PEYER, MARK WAID and others • Art by LEE MODER, JEFFREY MOY and others • Cover by JEFFREY MOY and W.C. CARANI
In the second LEGIONNAIRES book, Saturn Girl, Cosmic Boy and Live Wire recruit teen heroes from different worlds to form the Legion of Super-Heroes, with the financial backing of their wealthy benefactor. Collects LEGION OF SUPER-HEROES #69-73, LEGION OF SUPER-HEROES ANNUAL #6, LEGIONNAIRES #25-30, LEGIONNAIRES ANNUAL #2 and a story from SHOWCASE '95 #6.
On sale MAY 23 • 392 pg, FC, $39.99 US
THE LEAGUE OF EXTRAORDINARY GENTLEMEN: THE BLACK DOSSIER TP NEW PRINTING
Written by ALAN MOORE
Art and cover by KEVIN O'NEILL
Retailers: This title is now available for order in all territories.
In the 1950s, England is not what it was, and with the League of Extraordinary Gentlemen disavowed, Mina Murray and Allan Quatermain seek answers that can be found only in the Black Dossier, a book buried deep in the vaults of their old headquarters. Now available in a new printing of the trade paperback, this amazing graphic novel includes a 3-D section complete with custom 3-D glasses and much more! On sale MAY 2 • 192 pg, FC, $19.99 US
THE NEW TEEN TITANS OMNIBUS VOL. 3 HC NEW EDITION
Written by MARV WOLFMAN and GEORGE PEREZ
Art by GEORGE PEREZ, DAN JURGENS, CARMINE INFANTINO and others
Cover by GEORGE PEREZ
In this third massive collection of the hit 1980s series, now back in print, the team battles the villainy of H.I.V.E., faces the evil Dr. Light, witnesses the trial of Deathstroke, and tries to rescue the dark hero known as Raven from her own father, Trigon. Collects TALES OF THE TEEN TITANS #42-68, THE NEW TEEN TITANS (second series) #1-9 and TALES OF THE TEEN TITANS ANNUAL #3. On sale JULY 25 • 720 pg, FC, $99.99 US
NIGHTWING: THE NEW ORDER TP
Written by KYLE HIGGINS
Art and cover by TREVOR McCARTHY
Welcome to a near-future world where society has completely rejected super-heroes! Metahumans are now illegal, and none other than the former Boy Wonder heads a government sponsored task force to hunt them down. But what do you do when your own son is condemned by the very system you helped create? Collects NIGHTWING: THE NEW ORDER #1-6.
On sale MAY 2 • 152 pg, FC, $16.99 US
SUPERBOY AND THE LEGION OF SUPER-HEROES VOL. 2 HC
Written by PAUL LEVITZ, LEN WEIN, GERRY CONWAY and others
Art by JAMES SHERMAN, JOE STATON, JIM STARLIN, DICK DILLIN and others
Cover by JOE STATON and DICK GIORDANO
In these 1970s stories from SUPERBOY AND THE LEGION OF SUPER-HEROES #241-258 and DC COMICS PRESENTS #13-14, the teen heroes from the 30th century must stop a Khund invasion of Earth—but who is manipulating the leader of the Khunds into this aggression? Then, the Fatal Five return, and the team must stop the Starburst Raiders from stealing the heart of the sun!
On sale JULY 11 • 448 pg, FC, $49.99 US
SCOOBY-DOO TEAM-UP VOL. 5 TP
Written by SHOLLY FISCH
Art by DARIO BRIZUELA, SCOTT JERALDS and DAVE ALVAREZ
Cover by DARIO BRIZUELA
In these all-ages tales from SCOOBY-DOO TEAM-UP #25-30, Scooby and the Mystery Inc. gang fight evil with the help of heroes including Green Lantern, Green Arrow,
Plastic Man, Hong Kong Phooey and more!
On sale MAY 30 • 128 pg, FC, $12.99 US
SUPERGIRL: BEING SUPER TP
Written by MARIKO TAMAKI • Art and cover by JOELLE JONES
Kara Danvers isn't any different than any other teenager in her hometown. Problems with school. Problems with boys. Problems with friends. But while growing pains shake up Kara's world, a series of earth-shaking events hits her hometown, leaving her with with the choice of blending in with the crowd or being different. Being an outcast. Being super. This reimagining of Supergirl will appeal to fans of all ages and readers new and old, as the Girl of Steel flies face-first into the struggles that every teenager faces. Collects SUPERGIRL: BEING SUPER #1-4.
On sale MAY 30 • 208 pg, FC, $16.99 US
SEVEN SOLDIERS BY GRANT MORRISON OMNIBUS HC
Written by GRANT MORRISON • Art by J.H. WILLIAMS III, FRAZER IRVING, SIMONE BIANCHI, CAMERON STEWART, FREDDIE E. WILLIAMS II, RYAN SOOK, YANICK PAQUETTE, DOUG MAHNKE and others • Cover by J.H. WILLIAMS III
Grant Morrison's epic tale starring the Shining Knight, the Guardian, Zatanna, Bulleteer, Frankenstein, Mister Miracle and Klarion the Witch-Boy is collected in one massive volume for the first time! These reluctant champions must work together to save the world from the insidious threat of the invading Sheeda warriors! Collects SEVEN SOLDIERS #0-1, SHINING KNIGHT #1-4, GUARDIAN #1-4, ZATANNA #1-4, KLARION #1-4, MISTER MIRACLE #1-4, BULLETEER #1-4 and FRANKENSTEIN #1-4.
On sale AUGUST 15 • 792 pg, FC, $75.00 US
SUPERMAN BY MARK MILLAR TP
Written by MARK MILLAR
Art by ALUIR AMANCIO, MIKE MANLEY, SEAN PHILLIPS, MIKE WIERINGO, GEORGES JEANTY, JACKSON GUICE and others • Cover by BRIAN STELFREEZE
This collection brings together timeless tales from Superman's goodbye to Earth to Lois Lane's personal account of a life forever changed by Superman. And from his Eisner-nominated run on SUPERMAN ADVENTURES come stories that explore the heart of Superman and the root of Lex Luthor's obsession with him. Plus, a tale of a world in which Detective Harvey Dent goes from man to Superman. Collects SUPERMAN: TEAM SUPERMAN #1, TANGENT COMICS: THE SUPERMAN #1, SUPERMAN ADVENTURES #19, 25-27, 30, 31, 36, 52 and stories from SUPERMAN 80-PAGE GIANT #2 and DC ONE MILLION 80-PAGE GIANT #1,000,000.
On sale MAY 30 • 280 pg, FC • $29.99 US
SUPERMAN: THE GOLDEN AGE VOL. 4 TP
Written by JERRY SIEGEL
Art by JEOE SHUSTER and others
Cover by EVAN "DOC" SHANER
The Man of Tomorrow's Golden Age adventures continue! In these tales from ACTION COMICS #41-47, SUPERMAN #12-15 and WORLD'S FINEST COMICS #3-5, Superman battles saboteurs, investigates a rash of plane crashes, faces a super-powered Luthor and much more!
On sale MAY 23 • 376 pg, FC • $24.99 US
TITANS: TOTAL CHAOS TP
Written by MARV WOLFMAN
Art by TOM GRUMMETT, GABRIEL MORRISSETTE, MICHAEL NETZER, ADAM HUGHES, KEVIN MAGUIRE, KERRY GAMMILL, PHIL JIMENEZ, ART NICHOLS and others • Cover by MIKE ZECK
A threat from the future has come to the present to destroy the Titans: Donna Troy's son, Lord Chaos! Bringing with him a futuristic army, the would-be hero turned despot faces Titans past and present in the heroes' greatest conflict to date. However, when the battle becomes too much for even these super-teams, will they be able to turn to their greatest foe, Deathstroke, for assistance? This timeless crossover from one of the greatest creative teams of all time is finally here! Collects New Titans #90-92, Deathstroke, the Terminator #14-16 and Team Titans #1-3.
On sale MAY 16 • 336 pg, FC, $29.99 US
THE WILD STORM VOL. 2 TP
Written by WARREN ELLIS • Art by JON DAVIS-HUNT • Cover by JIM LEE and SCOTT WILLIAMS
Jackie King, chief analyst at IO, tries to make sense of all the pieces scattered across the board since Angela Spica saved Jacob Marlowe's life. Angela Spica wakes up at Jacob Marlowe's safe house and starts to realize how far from real life she's been thrown since then. But life is not slowing down, and Marlowe's wild covert action team has to extract the last member of their number from an IO black site. Collects THE WILD STORM #7-12.
On sale MAY 23 • 168 pg, FC, $16.99 US
ZERO HOUR: CRISIS IN TIME HC
Written by DAN JURGENS
Art by DAN JURGENS, JERRY ORDWAY and others
Cover by DAN JURGENS and JERRY ORDWAY
All of reality comes under attack when a mysterious force of entropy begins slowly erasing time itself—making its way from both the past and future toward the present! As history itself unravels around them, the heroes of the world–including Superman, Batman, Wonder Woman, The Flash, the Justice Society and the Titans—scramble to fix the broken time stream. But even if they stop the true source of the chaos, the world they save will never be the same! Collects ZERO HOUR #0-4 in hardcover for the first time. Includes a new introduction by Dan Jurgens, updated timeline to the DC Universe and never-before-collected bonus material. On sale MAY 2 • 200 pg, FC, $24.99 US
ASTRO CITY #52
Written by KURT BUSIEK • Art by BRENT ANDERSON • Cover by ALEX ROSS
It's the final issue of ASTRO CITY…for now. Michael Tenicek lost his world years ago. Now he may lose another, as ordinary life among the extraordinary takes a shattering turn. A character-focused finale to the ongoing Vertigo ASTRO CITY series, and a launch point for its new form. Guest-starring the Hanged Man, Honor Guard and more.
On sale APRIL 18 • 32 pg, FC, $3.99 US • RATED T • FINAL ISSUE
DEATHBED #3
Written by JOSHUA WILLIAMSON
Art and cover by RILEY ROSSMO
Have you ever felt alone? Lost? Like you needed a friend?
If so…join the Cult of Luna! Started in the heyday of the cult movement, the Cult of Luna follows the words of the great Antonio Luna. Every single word. No matter how random or insane, the Cult of Luna treats them as an eternal gospel. He is their God. And he will be your God, too. So, come on down and join us! Bring the kiddies! Journey to the center of your inner mind. Meet exciting people who want to meet you! Find out what you're really made of! Share yourself with our hungry followers! And most of all…have fun!
On sale APRIL 18 • 32 pg, FC, 3 of 6, $3.99 US • MATURE READERS
IMAGINARY FIENDS #6
Written by TIM SEELEY
Art by STEPHEN MOLNAR
Cover by RICHARD PACE
As Special Agent Crockett deals with the Fraidy Cat and her followers, Melba must confront the monster inside her, or her imaginary friend, Polly Peachpit, will die.
On sale APRIL 25 • 32 pg, 6 of 6, FC, $3.99 US • MATURE READERS
MOTHERLANDS #4
Written by SI SPURRIER
Art by RACHAEL STOTT
Cover by ERIC CANETE
Variant cover by KIM JUNG GI
Retailers: This issue will ship with two covers. Please see the order form for details.
Hopeless! Schism! Mutual loathing! These are just some of the words to describe the state of Tab and Selena's relationship when the mother-daughter duo's forced to go their separate ways, lest their bitter memories of the past compel them to straight-up murder each other. But murder's not off the table completely when Selena's set upon by the Braintrust, a multiversal mafia to whom Selena's in deep debt. If only she could remember why? The plot thickens as MOTHERLANDS drives toward its unbelievable climax.
On sale APRIL 25 • 32 pg, 4 of 6, FC, $3.99 US • MATURE READERS